19 Great French Hotels Not in Paris or Provence
---
French hotels and regions worth discovering
Great location, great service, memorable food – all these French hotels have that, and more. The list is in no particular order; it made sense to us to let all hotels be viewed as equals. Grand Hotel Barriere had the benefit of being the first hotel we chose for the list this year, so it occupies top slot for no other reason than that.
Enjoy!
Also, see our "Best Hotels in Paris" and "Best Hotels in the South of France" lists.
1. GRAND HOTEL BARRIERE – DINARD
The gorgeous Brittany coast is graced with five stars in Dinard.
Located on the Côte d'Émeraude of Brittany, the town of Dinard became popular in the 19th century with American and British aristocrats, who built Le Grand Hotel. Still the grandest hotel in town, the Grand Hotel Barriere and its Casino Barriere de Dinard overlook the harbor and are a quick five-minute walk from town. The hotel is known for being particularly kid-friendly. A quick train ride from Paris, Dinard holds a British Film Festival every October.
Grand Hotel Barriere – Dinard
46, avenue George V BP 70143
35801 Dinard, France
Tel:+33 (0)2 99 88 26 26
Hotels Barriere
2. LA VILLA DES CONSULS, SARLAT, DORDOGNE-PERIGORD
A hotel with medieval charm, 21st century amenities in Sarlat.
For those who've always wanted to see what it would be like to live in Medieval France – albeit a Medieval France with wifi and free laundry facilities – La Villa des Consuls offers a taste. The small hotel offers reasonable prices for its apartments and guest rooms, which are located in 13th, 17th and 19th century buildings in the heart of Sarlat's medieval quarter.
La Villa des Consuls, Sarlat-Dordogne-Périgord
3, rue Jean-Jacques Rousseau
24200 Sarlat, France
Tel: 33 (0)5 53 31 90 05
www.villaconsuls.fr
3. HOTEL DU PALAIS – BIARRITZ
Dating back centuries, this Biarritz palace exudes luxury
As its name suggests, Hotel du Palais is the grand palace of the Basque region. Originally built as a summer residence by Napoleon III for Empress Eugenie, the seaside hotel is located on the water in Biarritz, with the boardwalk steps away. With amenities (and prices) befitting a luxury palace, Hotel du Palais offers a full-service spa, a Michelin-starred restaurant and a prime spot for pool-side cocktails.
Hotel du Palais – Biarritz
1, Avenue de l'Imperatrice
64200 Biarritz, France
Tel.: 33 (0) 5 59 41 64 00
4. CHATEAU DE FERE – FERE-EN-TARDENOIS (CHAMPAGNE)
Why just tour a cave when you can stay the night in this historic region?
How better to enjoy the Champagne region than in a 16th-century castle located on an estate with an even older (12th century) castle on the grounds? The Chateau de Fere is known for its attention to service (one staff member for every two guests) and gastronomy — not to mention the 20,000 bottles of wine housed in a labyrinth of underground tunnels. For those looking to leave the bucolic setting of vineyards, hot-air balloons and historic buildings, Euro Disney is not far away.
Chateau de Fere – Fere-en-Tardenois (Champagne)
Route de Fismes
02130 Fere-en-Tardenois, Champagne, France
Tel: +33 (0) 23 82 21 13
www.ila-chateau.com
5. CHATEAU LA CHENEVIERE – BAYEUX
Close proximity to D-day touring sites and a heated pool, set on manicured grounds.
Built as a classic Normandy manor house in 1904, Chateau La Cheneviere has a rich history that includes being occupied first by the Germans and then the Americans after the landing at nearby Omaha Beach during World War II. The 29-room Chateau is also near the historic town of Bayeux, famous for its William the Conquerer tapestries. The beautifully landscaped grounds of the La Cheneviere include tennis courts, a jogging trail and croquet – not to mention a chef's vegetable garden for the restaurant, featuring Normandy cuisine and an extensive wine cellar.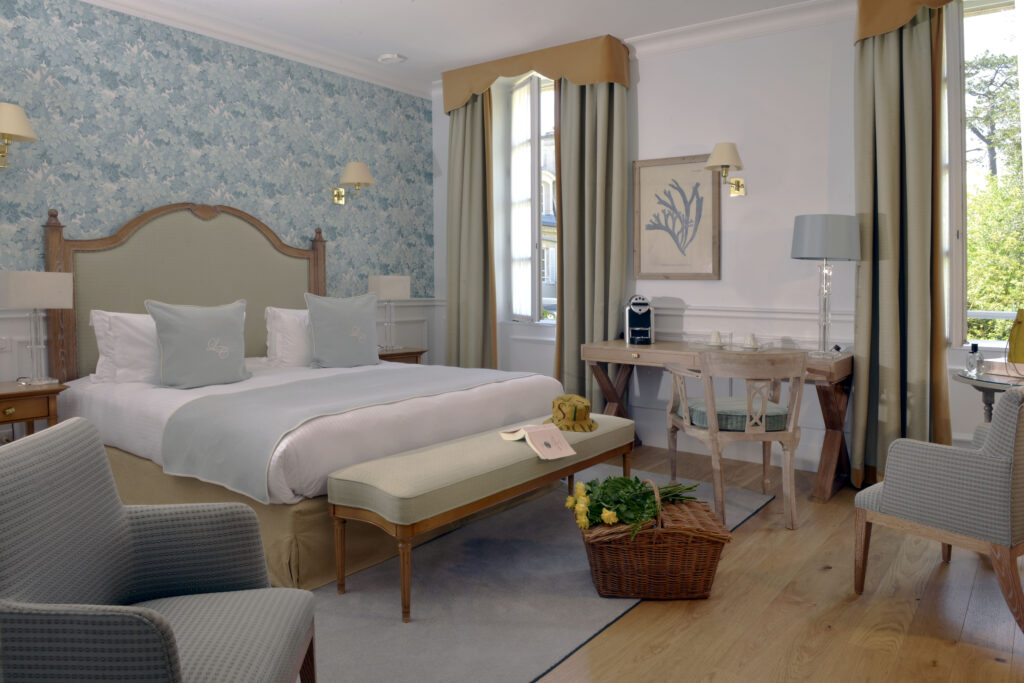 Chateau La Cheneviere – Bayeux
Escures-Commes
14520 Port-en-Bessin, France
Tel: +33 (0) 2 31 51 25 25
www.lacheneviere.com/
6. HOTEL DE CHARME LES AIRELLES
Luxury skiing without compare in the French Alps
Located in the Savoie region of the French Alps, Courcheval is part of Les Trois Vallees – the largest linked ski area in the world. The quintessential ski lodge, Hotel de Charme offers amenities to help guests appreciate their time on the slopes – or as they put it "the pleasure of hurtling freely through wide open spaces" – and then enjoy the niceties of a good meal and a warm ambience afterwards.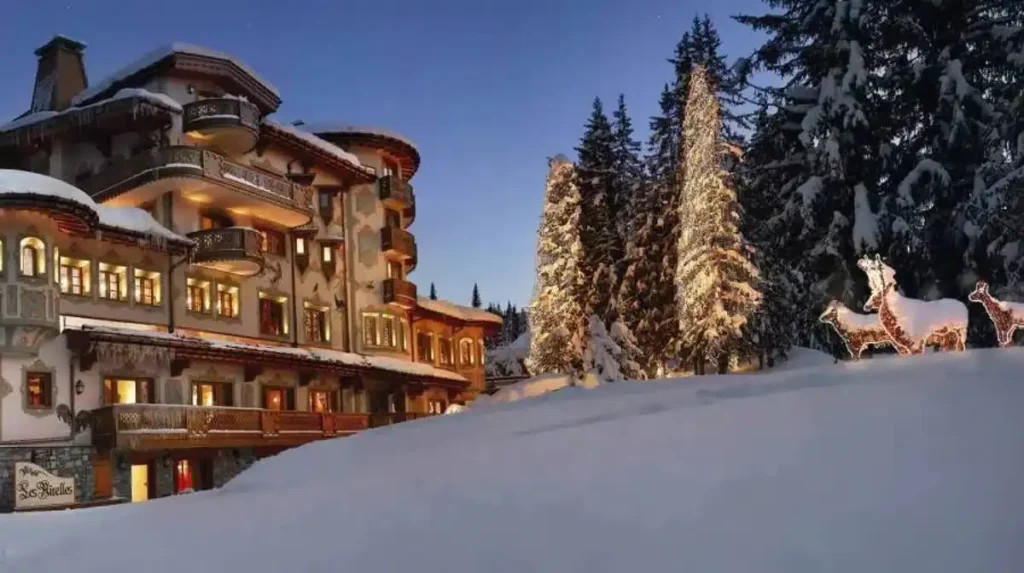 Hotel De Charme Les Airelles – Courchevel
Le Jardin Alpin
73120 Courchevel Savoie, France
Tel: 33 (0) 4 79 00 38 38
airelles.fr/
7. LE ROYAL CHAMPAGNE A CHAMPILLON – EPERNAY
Serving as an inn since the time of Napolean, yet updated for a luxury traveler
Le Royal Champagne a Champillon was originally a coach house that served as a popular stop for royalty – and Napoleon and his generals – between Epernay (and its wine caves) and Rheims (and the cathedral where the kings were baptized). One can see why: the hotel offers a gorgeous setting where each of the 25 rooms and suites – not to mention its highly regarded restaurant — offer views of the vineyards of the Champagne valley.
LE ROYAL CHAMPAGNE A CHAMPILLON – EPERNAY
9 Rue de la République
51160 Champillon, France
royalchampagne.com
8. LA RESERVE DE BEAULIEU & SPA – BETWEEN NICE AND MONACO
Privately owned, this hotel started as a restaurant and still focuses on seafood
One of the jewels of the Cote d'Azur, La Reserve de Beaulieu offers easy access to Monaco (to the east) and Nice (to the west). Founded in 1880 as a seafood restaurant ("La Reserve" was the nickname given to the live fish tank), La Reserve grew into a 39-room hotel favored among aristocracy and celebrities. Now owned by the Delion family, the "pink palace" of the Cote d'Azur offers a warm spirit and spectacular views of the sea.
La Reserve de Beaulieu & Spa
5, Boulevard du Marechal Leclerc
06310 Beaulieu-sur-Mer, France
Tel: 33 (0) 4 93 01 00 01
www.reservebeaulieu.com
9. HOTEL DE LA CITE – CARCASSONNE
Feels like the middle ages while enjoying luxury amenities
Set within two historic landmarks in Carcassonne's medieval citadel, the Hotel de la Cite offers the stone walls, stained-glass windows and glorious gardens for which the city is known – and listed as a UNESCO World Heritage site – not to mention the only pool within the walled city and a Michelin-starred restaurant with a neo-Gothic ambiance. In keeping with the historic buildings, Carcassonne is also known for its gastronomy and its wine – especially Blanquette de Limoux, the oldest sparkling wine in the world.
Hotel de La Cite – Carcassonne
Place Auguste-Pierre Pont
11000 Carcassonne, France
Tel: +33 (0) 4 68 71 98 71
www.hoteldelacite.com
10. L'EVECHE – VAISON-LA-ROMAINE
Be pampered in a manor house which rents out only 5 rooms
L'Eveche is a former Bishop's residence turned bed-and-breakfast inn in the middle of the Medieval city of Vaison-la-Romaine. Although the house is large, the couple that runs it rents out just five rooms in order to keep services high. The quiet serenity of the place belies its central location near the arts centers of Avignon and Luberon and the popular hiking trails in the Dentelles de Montmirail.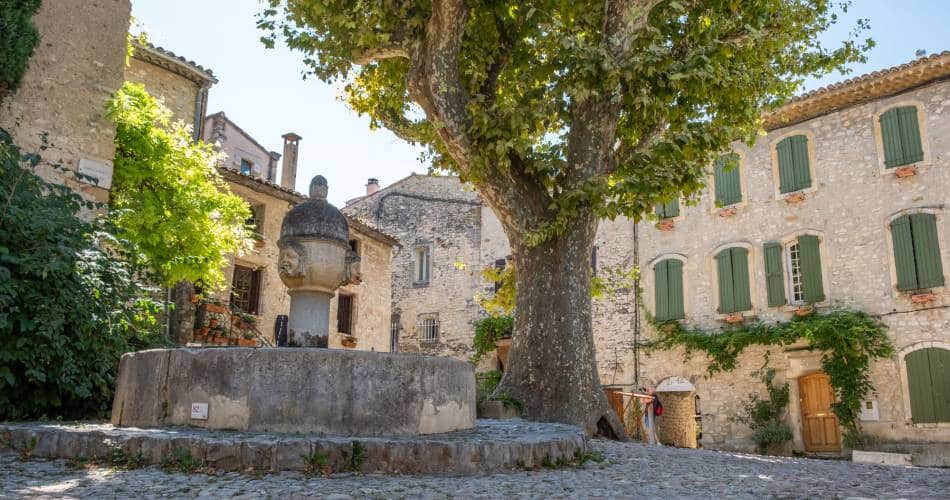 L'Eveche – Vaison-la-Romaine
Rue de l'Eveche – Cite Medievale
84110 Vaison la Romaine, France
Tel.: +33 (0) 4 90 36 13 46
11. CHATEAU D'ISENBOURG – ALSACE
On a visit to France, you should stay in a chateau to feel like a royalty
Surrounded by the famous vineyards of the Alsace region – and with views as far as the Black Forest – Chateau d'Isenbourg provides the quintessential French country experience. This includes, but of course, the cuisine. The 41-room Chateau offers not one, but two dining experiences, each with a different character – one Louis XV, with crystal chandeliers and views of the vineyards, the other more Louis XIII in a room dating back to the 12th century.
Chateau d'Isenbourg – Alsace
Rue de la Gendarmerie
68250 Rouffach, Alsace, France
Tel: +33 (0) 3 89 78 58 50
12. MIRAMAR BOUTIQUE HOTEL – CORSICA
Getting there is half the fun, as Corsica is situated in rustic splendor, like this hotel
There's the South of France – and then there's South of the South of France and that's the island of Corsica. Sandwiched between the French and Italian mainlands, Corsica is the fourth largest island in the Mediterranean Sea – and the most mountainous. The island's Miramar Boutique Hotel offers the atmosphere of a luxury villa overlooking the sea – not to mention 80 acres of lush gardens, a swimming pool and a wellness center.
Miramar Boutique Hotel – Corsica
Route de la Corniche
20110 Propriano, Corsica, France
Tel: +33 (0) 4 95 76 06 13
13. LES MANOIRS DE TOURGEVILLE – DEAUVILLE
Historic elegance along the dramatic Normandy coast.
Deauville is the closest seaside resort to Paris and has been considered the Parisian Riviera since the 19th century. With a famous film festival, casino and world class horse racing, Deauville has many fabulous hotels. Les Manoirs de Tourgeville is inland from the beach, offering countryside relaxation. It features classic Norman architecture, huge rooms, onsite dining, pool and walks.
Les Manoirs de Tourgéville
Chemin de l'Orgueil Tourgéville
14800 Deauville
Tel. : +33 2 31 14 48 68
www.lesmanoirstourgeville.com
14. CHATEAU DE L'ILE & SPA – STRASBOURG
TGV train connections to Strasbourg make this an easy luxury destination from Paris
In the village of Ostwald near the Alsace capital of Strasbourg, the Chateau de L'ile celebrates dual cultures in its architecture: part 19th-century chateau and part traditional half-timbered Alsace in design. The restaurants are similarly distinct, with one offering traditional Alsace cuisine and the other traditional French cuisine. Encircled by a park on the banks of the Ile River, the Chateau offers an island of tranquility that also includes a full-service spa.
Chateau de L'ile & Spa – Strasbourg
4 Quai Heydt
67540 Strasbourg-Ostwald, France
Tel: +33 (0) 3 88 66 85 00
www.grandesetapes.fr
15. LE CHOISEUL – AMBOISE (LOIRE VALLEY)
Really gorgeous slice of history set among formal gardens in Amboise – Built in a collection of three private residences from the 18th century and surrounded by Italian-style gardens, Le Choiseul offers 32 accommodations ranging from apartments to traditional guest rooms. The Loire Valley location allows for easy exploring of the area's well-known cuisine and the Amboise Castle, which was a favorite of French kings and has on its grounds an armored tank designed by Leonardo da Vinci.
Le Choiseul – Amboise (Loire Valley)
36 qual Charles Guinot
37400 Amboise, France
Tel: +33 (0) 02 47 30 45 45
16. CHATEAU LES CRAYERES – REIMS
Champagne paired with food is magnifique at this regional chateau.
In Reims, the capital of the Champagne region, the Chateau Les Crayeres is openly dedicated to the full enjoyment of the lovely bubbly.
Originally built in 1904 for the Polignac family, the chateau offers just 20 rooms, all decorated in classic French style. New to Les Crayeres is Le Jardin Brasserie, with a large terrace overlooking the gardens, to go with its Michelin two-starred Le Parc restaurant and La Rotonde bar.
Chateau Les Crayeres – Reims
64, bd Henry Vasnier
51100 Riems, France
Tel: 33 (0) 3 26 24 90 00
lescrayeres.com
17. GRAND BARRAIL CHATEAU HOTEL & SPA – SAINT-EMILION
Bordeaux wine is famous; enjoy it while dining like a king at this grand hotel.
Vineyards and winemaking have been a part of the town of Saint-Emilion – in the Bordeaux region – since the Romans planted the first grapes as early as the 2nd century. Grand Barrail offers 41 rooms and five suites spread over the five buildings: the Chateau, the Residence, the Maison du Bien-Etre and the Maison du Vignoble.
In 2008, the hotel changed ownership and has since undergone an extensive renovation and added a new manager/chef, affording an increased dedication to celebrating the region's wine and cuisine.
Grand Barrail Chateau Hotel & Spa – Saint-Emilion
Route de Libourne D243 F
33330 Saint-Emilion, France
Tel: +33 (0) 5 57 55 37 00
www.grand-barrail.com
18. CHATEAU DE CHOREY LES BEAUNE – BURGUNDY
Burgundy country chic for the adventurous wine tourist
Ten minutes outside of Burgundy wine hub Beaune, this hotel typifies the rustic luxury of regional French chateaux . Wine travelers with a car will enjoy being amid 1000 year old vineyards in a 17th century edifice. Turrets, moats, dogs, owner/winemaker who cooks breakfast to order. It has it all!
Chateau de Chorey Les Beaune
2, Rue Jacques Germain
21200 Chorey les Beaune
Tel. : +33 3 80 22 06 05
www.chateau-de-chorey-les-beaune.fr/
19. AGAPA HOTEL & SPA – PERROS GUIREC (BRITTANY)
Amazing views and serene quiet are a short walk from a local casino in charming Brittany.
About Agapa Hotel & Spa
Combining a Zen design with 1930s architecture, the Agapa Hotel & Spa finds its inspiration in what it calls the "Magic Square" – uniting the black motif of the Breton flag with Zen symbolism into a black square found in design elements throughout the hotel. Situated atop the Granite Rose Coast of Brittany, the Agapa offers 50 rooms and suites, two villas, the Beluga restaurant and a full-service spa.
Chateau de Chorey Les Beaune Agapa Hotel & Spa
12 Rue des Bons Enfants
22700 Perros-Guirec, France
www.lagapa.com