La Defense Neighborhood of Paris
About La Defense
---
During the early 1960's, the French government made the decision that instead of further crowding the city center of Paris they would create a business district outside the city. With tall buildings, colossal modern art, and concrete plazas, La Defense was regarded for a long time as a laboratory of contemporary architecture, with mixed results.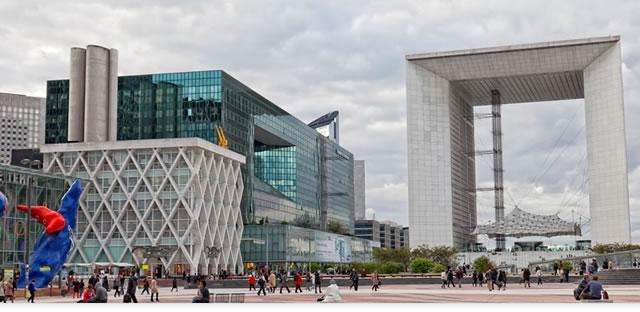 The district which extends along the communes from Puteaux, Courbevoie and Nanterre, is Paris's business center and draws about 200,000 each work day.
La Defense is decorated by The Grande Arche. Finished in 1989 (one hundred years after the Eiffel Tower's completion), the Arch is a modern salute to the Arc de Triomphe.
While the area offers good hotel deals at name brand hotels we recommend not staying in this area if you want to visit Paris on vacation. It's a ghost town at night and quite far from all of the famous Paris sites. Is La Defense safe? Yes, it generally is a safe area, but it is still part of a large city so, as always, pay attention in large urban areas.
The area actually has a tourism site visit it for more information.
La Defense Neighborhood Ratings
Link Paris Neighborhood Rating:
| | |
| --- | --- |
| "Must See" | |
| Area Hotel Quality: | |
| Safety | |
| Convenience | |
| Overall Travel Experience and Recommendation | |
("Five Towers" is the highest rating possible)