Marais, Beaubourg, Les Halles, Bastille
---
Beaubourg and Les Halles are Paris's most thriving public areas, with millions of tourists, shoppers and students flowing between them each year. Young people flock to Les Halles, shopping for the latest street fashions beneath the concrete and glass bubbles of the underground arcades.
All roads from Les Halles appear to lead to the Pompidou Centre, an avant-garde assembly of pipes, ducts and cables which houses the Musée National d'Art Moderne (Museum of Modern Art).
The smaller streets around the center are full of art galleries which make there home in crooked gabled buildings.
The neighboring Marais, with some of the oldest surviving streets and buildings in Paris, was abandoned by its royal residents during the 1789 Revolution, and it descended into an architectural wasteland before being rescued in the 1960's.
It has since become a very fashionable address. Small cafés, bakeries and artisans still survive in its streets. Enchanting sites, like Place des Vosges, as well as the surrounding XVIIth-century buildings are must-sees, just like Place de la Bastille, with its brand new opera house.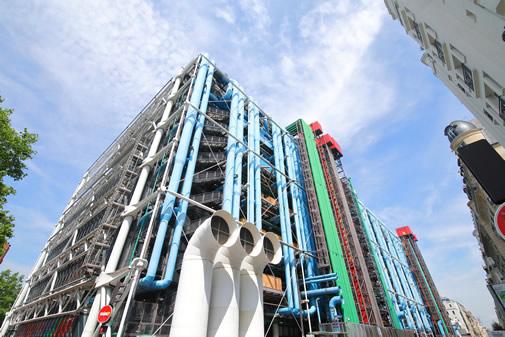 Centre Pompidou: Opened in 1977, Centre Pompidou remains one of the most revolutionary contemporary buildings in Paris. Architects Richard Roger and Renzo Piano put the lifts, escalators, heating and air conditioning pipes on the outside, color coding them by their different functions and leaving the inside free for arts activities.
The policy of free entry, implemented by the governments Culture Department, means that the ground floor often resembles a rough and tumble speaker's corner, a de facto extension of the street acts from the piazza outside. But do not let that put you off visiting the superb art collection, temporary exhibitions and the many other events.
Address: Plateau Beaubourg, 4th; phone : 44 78 12 33 – Open Mon, Wed-Fri noon-10pm; Sat, Sun 10am-10pm.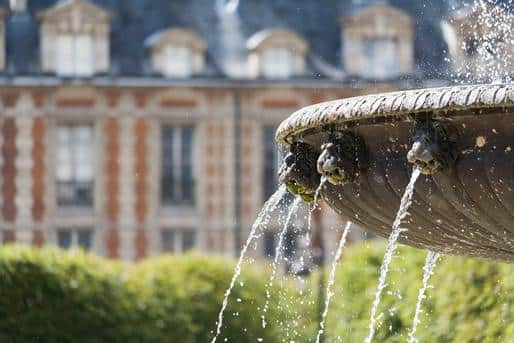 Place des Vosges:
The square Louis XIII was planted in the midst of the elegant Place des Vosges.
The Ginard fountain, whose waters are drawn from the Canal de l'Ourq, was inaugurated in 1811, and was replaced in 1835, when the four Ménager fountains were installed.
The arcades around house expensive antique shops, chic restaurants and the Maison de Victor Hugo.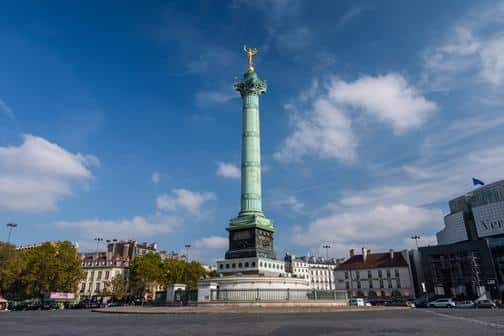 Bastille and the Opera:
Apart from a few chunks of the foundations inside the métro station, nothing remains of the infamous Bastille prison, which was stormed by the revolutionary masses in 1789.
But the Place de la Bastille is still the scene of a lively street activity every Bastille day (on July 14th). The column in the center of Place de la Bastille commemorates the Parisians killed during the riots of 1830 and 1848, and is crowned by the gilded génie de la Bastille.
On the south side of the square, Carlo Ott built his granite and glass, 2700 seat Opera Bastille in 1989, commemorating the 1789 French Revolution.
More Bastille information.