Mont Saint Michel Day Trip from Paris
See historic Mont St. Michel and Saint Malo in one great day from Paris
---
Book Now!
Click on the shopping cart symbol to the right after hitting "BOOK NOW" to checkout securely.
---
Our Paris to Mont St Michel Day Trip from Paris Tour Itinerary
On this inspiring day trip from Paris you'll visit three amazing destinations in western France: the historic abbey at Mont Saint Michel in Normandy, the walled city of Saint Malo, and the medieval town of Dinan in Brittany. This is one of our most popular tours.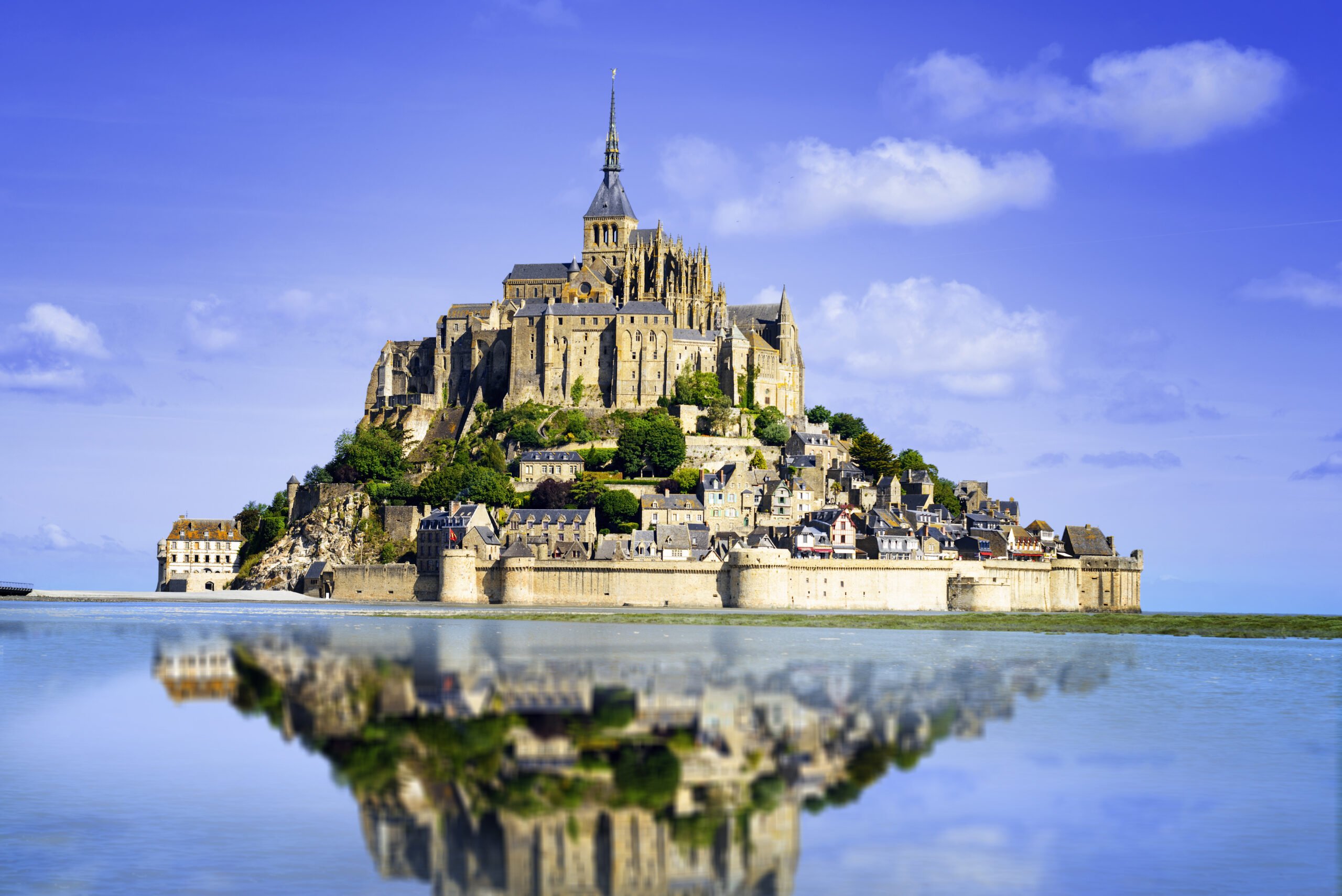 This is a small group excursion with eight persons maximum per tour. Meals are not included, but time for lunch is set aside at Mont Saint Michel.
Paris to Mont St. Michel Day Trip
Price: $182.00 per person (tour and abbey ticket only), $345.00 with 2nd Class Rail, and $445.00 with 1st Class Rail.
Departure Time: 7:00 a.m.
Duration: 14-15 Hours
Meeting Point: The rail station in Saint Malo, France
Group Size: 8 person maximum
Availability: Tours run March through October on Monday, Wednesday and Thursday.
Tour Includes
Pick up at the Saint Malo rail station in Brittany
Entrance fees at Mont Saint Michel
Licensed and knowledgeable driver guide throughout the day
Time for lunch at Mont St. Michel
Read our customer reviews.
Any tour can be made private. Contact us for pricing and details.
This tour often sells out, so please book early to get your preferred tour date.
Full Mont St. Michel Day Trip from Paris by Train Itinerary
Start the day with a relaxing train ride from Paris' Gare Montparnasse to Brittany. Upon arrival in the town of Saint Malo, your driver will be waiting to take you on a tour of Brittany's emerald coast and the historic abbey at Mont Saint Michel.
With the terrific high speed train service from Paris to St. Malo, you'll save hours of driving time. Arrive early enough from Paris to see so much more! The high speed train to Mont Saint Michel from Paris is a night and day contrast from the big bus tours.
Upon arrival in Saint Malo, you'll be met personally at the rail station by our guide. No complicated meeting point instructions.
Charming Saint Malo
The walled city of Saint Malo retains a medieval atmosphere, with cobbled streets and half-timbered houses. The dramatic Brittany tides, highest recorded in Europe, (a 30 foot gain in as many minutes!) can be experienced at the sea wall or with a walk along the flats at low tide. Saint Malo was prominently featured in the acclaimed book "All the Light We Cannot See" by Anthony Doerr.
Visit Mont Saint Michel
So, here is how the legend of the founding of Mont Saint Michel goes: A medieval monk was visited by a seemingly impossible vision from the archangel Michael. The angel instructed him to build a monastery atop a rock formation along the Brittany/Normandy coastline. Many centuries later, Mont St. Michel, as it now stands, was completed. Mont St. Michel is the second-most-visited site in France, after the Eiffel Tower. You'll spend three to four hours at this historic gem. There is ample time to climb the well-paced 300 steps up to the monastery and also enjoy the lunch of your choice. After your visit, a short drive brings you to Dinan, full of half-timbered buildings and winding streets.
Medieval Dinan
Just a few miles from the Mont is the preserved medieval village of Dinan, an important trading center during the Middle Ages. Today it is filled with charming cafes and shops.
You'll finish the day in Rennes, boarding the TGV for a quick two hour ride back to Paris.
More Tour Photos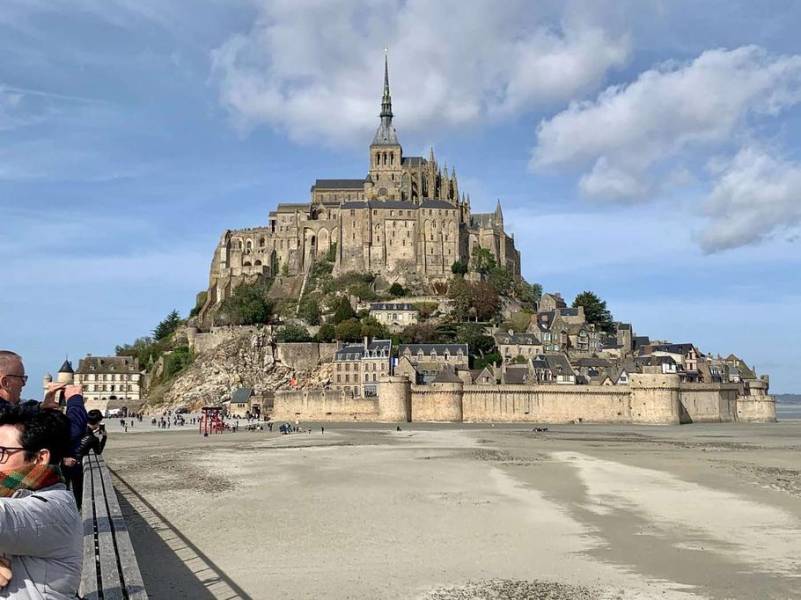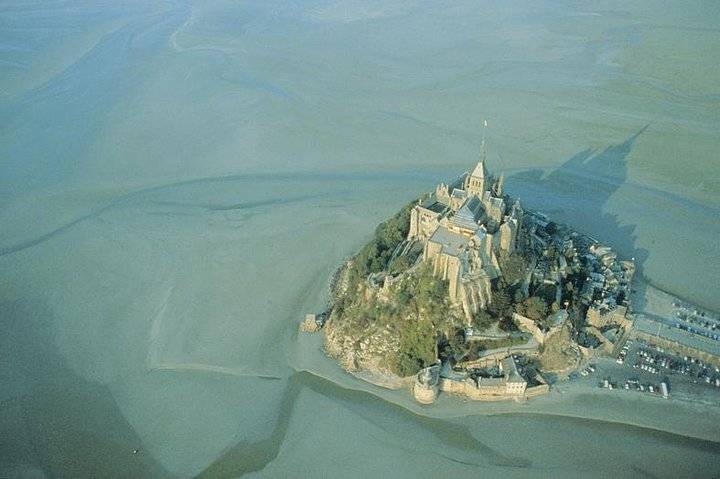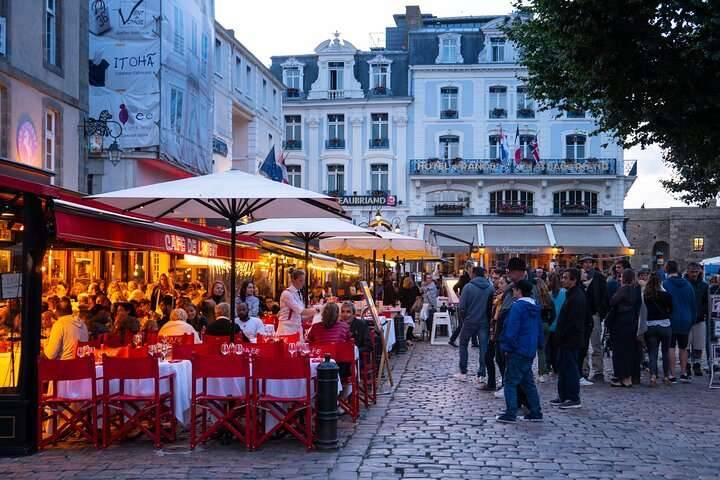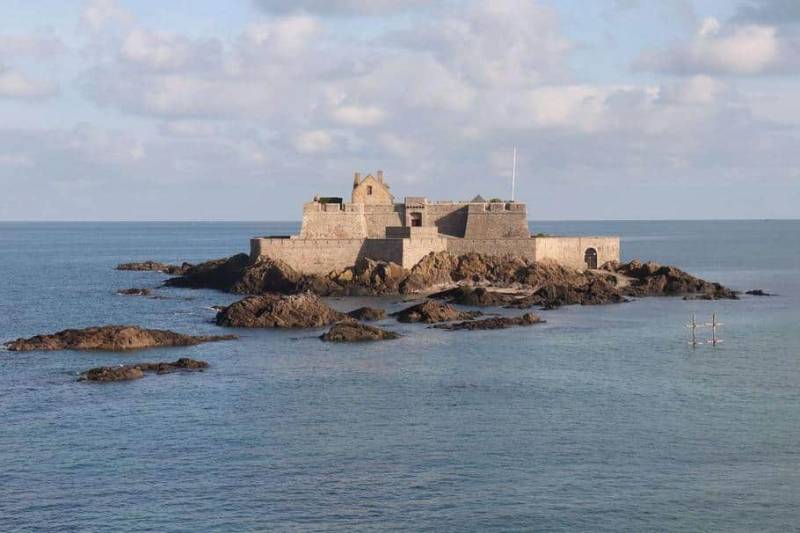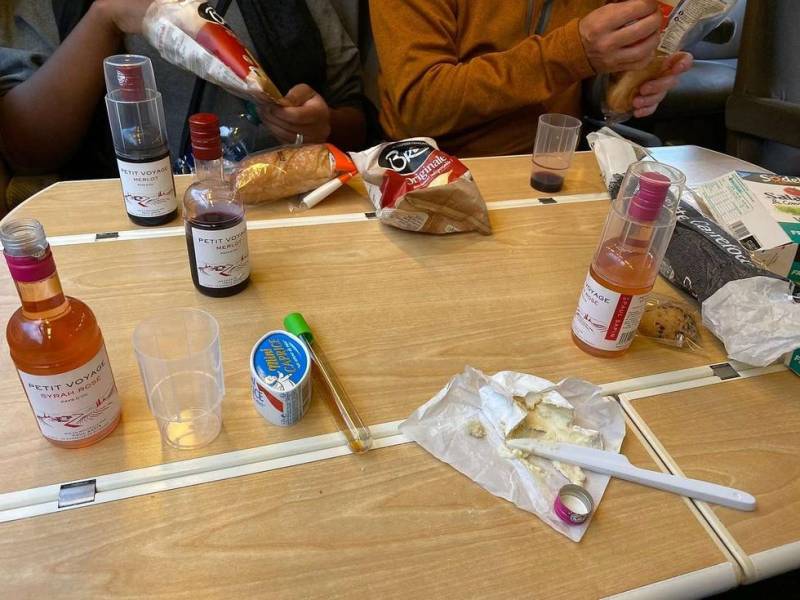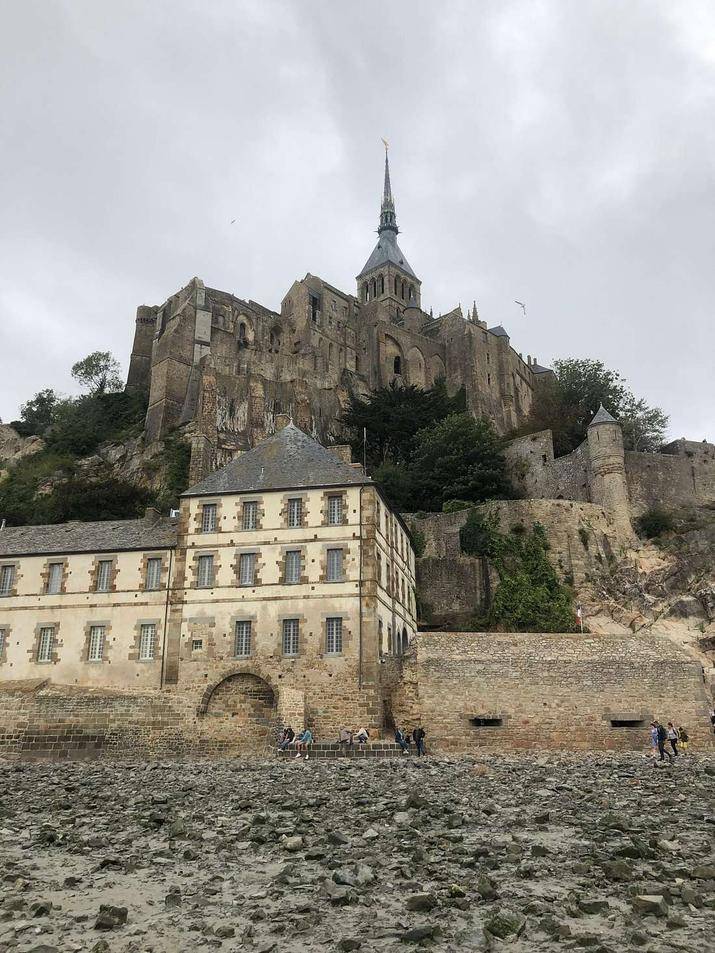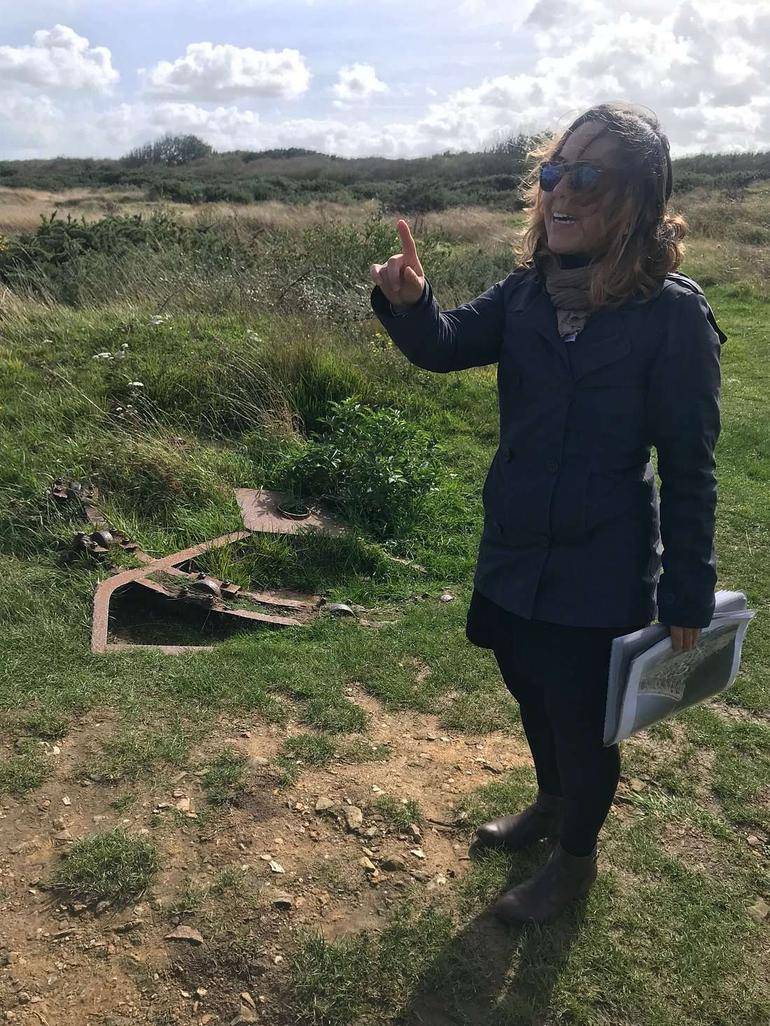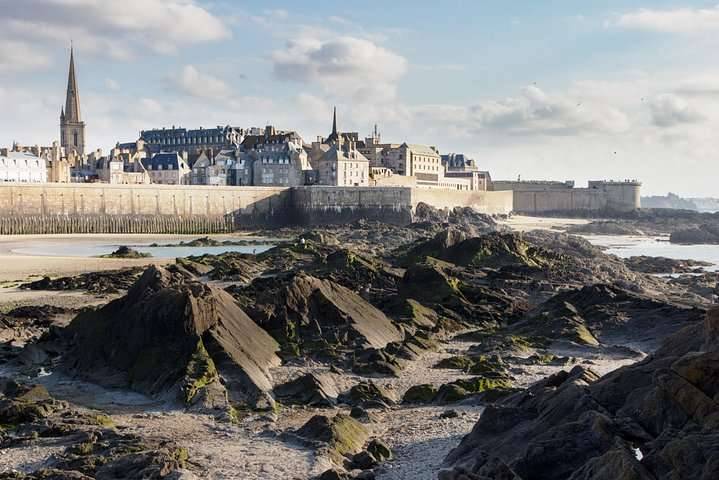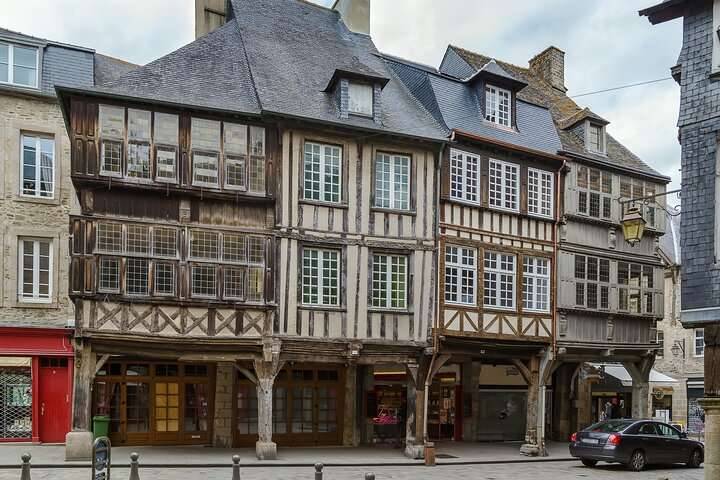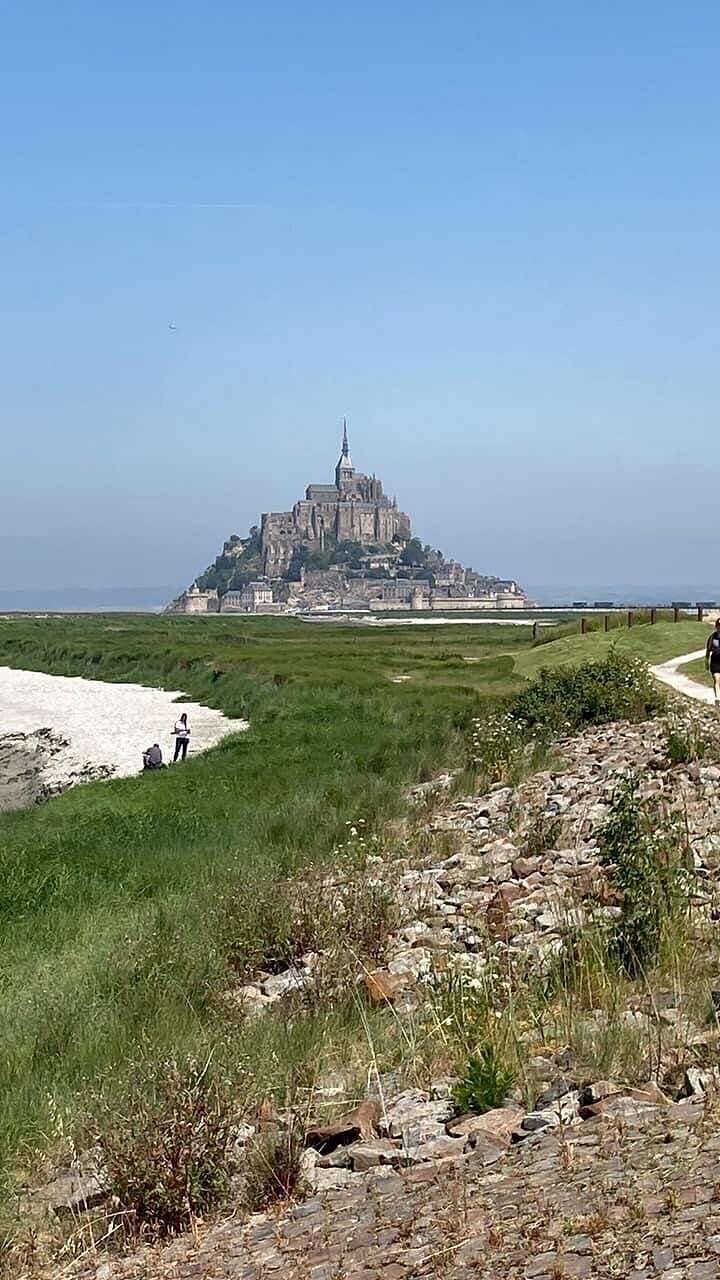 The approach to enchanting Mont Saint Michel
An aerial view of Mont Saint Michel
Life inside the walls at Saint Malo
A miniature "castle" off the coast of Saint Malo
A picnic on the Paris to Normandy train
An outbuilding at Mont St. Michel
A view from outside Saint Malo
The medieval river town of Dinan
Mont Saint Michel from afar
A cobblestone street in Dinan, France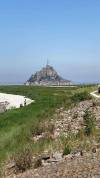 Please send us your photos after traveling!
Mont St. Michel Day Trip from Paris – More Information
Your train leaves Paris' Montparnasse station at 6:58 am, bound for St. Malo, and arrives back in Paris at around 10:05 pm. By taking the train directly from Paris to Saint Malo (and back from Rennes), our tour cuts out about five hours of driving time between Paris and Mont Saint Michel.
Cancellation and Refund Policies
Due to the small group aspect of all of our tours, our cancellation policy is as follows. More than 7 days before tour date – 100% refundable; from 7 to 3 days before tour date – 50% refundable; less than 3 days – non-refundable. If cancelling please contact us as soon as possible to insure we can credit you properly.
Link Paris Reviews – What Others Say About Our Tours
Why choose our Mont St. Michel day trip from Paris over the big bus tours?
Other companies typically offer Mont Saint Michel day tours from Paris by the busload. Up to 50 people per tour! Our tours are all eight people per group maximum and hosted by a Brittany local.
The big bus tours from Paris are often run concurrently in different languages. Our Mont St. Michel Day Trip from Paris is offered in English only.
Taking the high speed rail gets you to the region so much faster that you see three destinations (Saint Malo, Mont St. Michel and the charming medieval river town of Dinan), instead of just one.
How much time do you need to tour Mont St. Michel?
On our tour you'll spend about 3 hours at Mont St. Michel. Experience has shown us that that amount of time strikes the perfect balance between spending too much and not enough time at the abbey.
Walking the 300 steps to the top of the Mont takes some time and is best done at a leisurely pace. The view is well worth the effort. We also time the day so you are there during lunch and can soak up the fascinating atmosphere of this medieval wonder.
Why we love Mont St. Michel – When a medieval monk has a vision to build a monastery on a rock cut off by high tides, and actually gets it built, well, you have to see it. We climbed the 300 steps up and took in an amazing view. That fast-advancing tide is almost like an optical illusion, and I'll never forget almost getting caught in it when we walked the tidal flats further up the coast. – Laura