Explore the Treasures of the Musée d'Orsay in Paris
Nestled in the heart of Paris along the banks of the Seine, the Musée d'Orsay is a must-see destination for art lovers visiting the French capital. Housed in a stunning, repurposed Beaux-Arts railway station, the museum is home to an impressive collection of Impressionist, Post-Impressionist, and Art Nouveau masterpieces, as well as sculptures and decorative arts.
The Collection at the Musée d'Orsay
The Musée d'Orsay's collection, spanning from the mid-19th to the early 20th century, showcases an incredible array of works by world-renowned artists. The museum is particularly famous for its extensive collection of Impressionist and Post-Impressionist masterpieces, as well as its selection of Art Nouveau and Realist art.
As you wander through the galleries, you'll encounter the breathtaking work of legendary artists such as Claude Monet, Pierre-Auguste Renoir, Vincent Van Gogh, Auguste Rodin, Édouard Manet, Edgar Degas, and many others. The museum's carefully curated exhibits provide an immersive experience that allows visitors to appreciate the artistic innovations and techniques of these groundbreaking artists.
Some of the most iconic pieces in the Musée d'Orsay's collection include:
Vincent Van Gogh's Starry Night Over the Rhône: This captivating painting showcases Van Gogh's signature swirling brushstrokes and vivid color palette, with the shimmering stars and lights reflecting on the Rhône River.
Pierre-Auguste Renoir's Dance at Le Moulin de la Galette: A lively snapshot of Parisian life in the late 19th century, this vibrant painting captures the movement, energy, and atmosphere of an outdoor dance at Montmartre's Moulin de la Galette.
James McNeill Whistler's Arrangement in Grey and Black No.1: Also known as Whistler's Mother, this iconic portrait is a masterful study in simplicity and restraint, showcasing the artist's subtle approach to composition and color.
Claude Monet's Water Lilies: This series of paintings, displayed in the museum, captures Monet's beloved Giverny garden in different lights and seasons. The delicate brushwork and luminous colors evoke a sense of tranquility and the beauty of nature.
Auguste Rodin's The Age of Bronze: This striking, life-sized sculpture showcases Rodin's skill in capturing the human form, emotion, and movement. The Age of Bronze was one of the artist's first major works, marking the beginning of his illustrious career.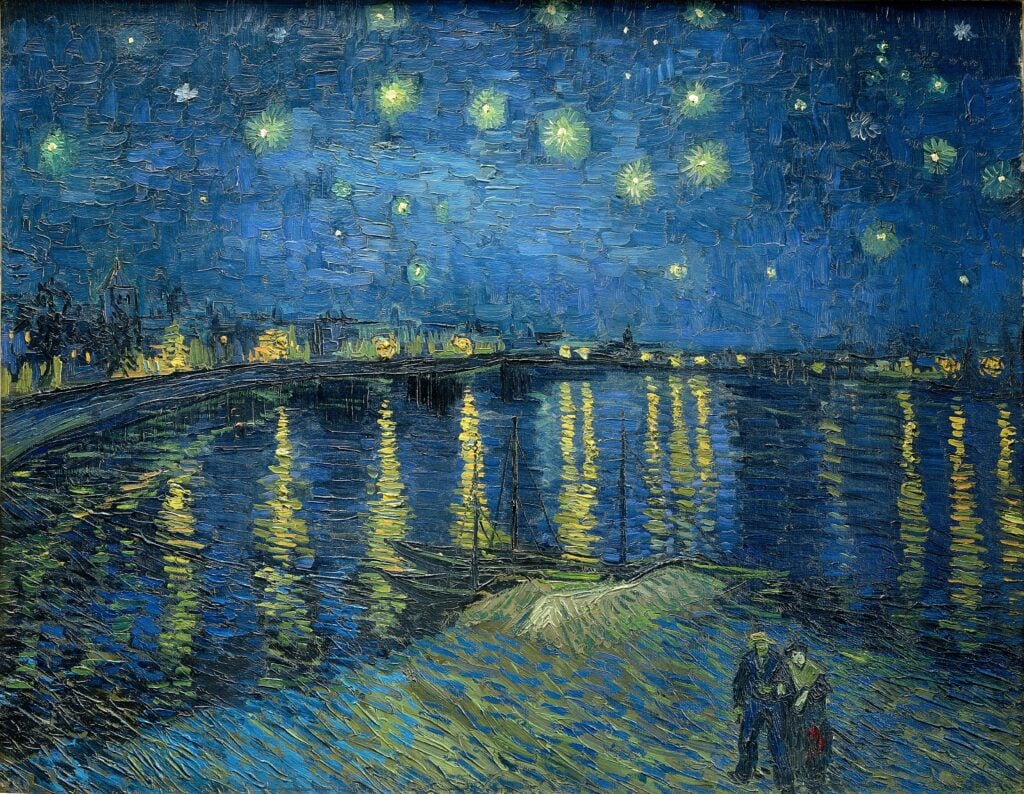 In addition to these famous works, the museum also features countless other gems, including sculptures, decorative arts, and photography. A visit to the Musée d'Orsay provides a unique opportunity to explore and appreciate the diverse and influential artistic movements of the 19th and early 20th centuries.
Visiting Musée d'Orsay
Opening Hours: Tuesday to Sunday, 9:30 am – 6:00 pm (open until 9:45 pm on Thursdays) Closed on Mondays, May 1, and December 25
Address: 1 Rue de la Légion d'Honneur, 75007 Paris, France
Tickets: Full price: €14, reduced price: €11, free for visitors under 18 or EU residents under 26
To make the most of your visit, consider purchasing a Paris Museum Pass, which offers access to over 60 museums and monuments in and around Paris, including the Musée d'Orsay, the Louvre, and the Palace of Versailles.
Tips for Your Visit:
Arrive early to avoid crowds, especially on weekends and during peak tourist seasons.
Don't miss the museum's stunning clock face, offering a unique view of the city.
Allocate at least a few hours to fully appreciate the extensive collection.
Download the Musée d'Orsay's official app for an interactive map, guided tours, and additional information on the artworks.
Getting to the Musée d'Orsay
| | |
| --- | --- |
| Address | 1, rue de Bellechasse, 62, rue de Lille, Paris, 75007 |
| | Solférino (Line 12) |
| | RER C Musée d'Orsay |
| | 24, 63, 68, 69, 73, 83, 84, 94 |
Visit the official Musée d'Orsay website for further information.
.