Exploring the Saint-Germain-des-Prés Neighborhood
The Saint-Germain-des-Prés district, located on the Left Bank of the Seine River, is one of the most iconic and charming neighborhoods in Paris. Known for its rich history, vibrant intellectual and artistic scene, and picturesque streets, Saint-Germain-des-Prés has long been a haven for writers, painters, and philosophers. Discover the heart of Parisian culture and indulge in the irresistible charm of this unique area.
The Soul of Parisian Art and Culture
Saint-Germain-des-Prés dates back to the 6th century when the Benedictine Abbey of Saint-Germain-des-Prés was founded. The district flourished during the Middle Ages and continued to grow in prominence throughout the centuries. In the 20th century, it became a hub for artists and intellectuals, with famous figures like Jean-Paul Sartre, Simone de Beauvoir, and Ernest Hemingway frequenting its streets, cafés, and bookstores.
Landmarks and Attractions:
1. Saint-Germain-des-Prés Church: The centerpiece of the district, the Saint-Germain-des-Prés Church, is the oldest in Paris. Its Romanesque architecture, fascinating history, and beautiful interior make it a must-see attraction.
2. Les Deux Magots and Café de Flore: These legendary cafés were once the epicenters of Parisian intellectual life, where artists, writers, and philosophers would gather to discuss ideas. Today, they remain popular spots for a traditional French café experience.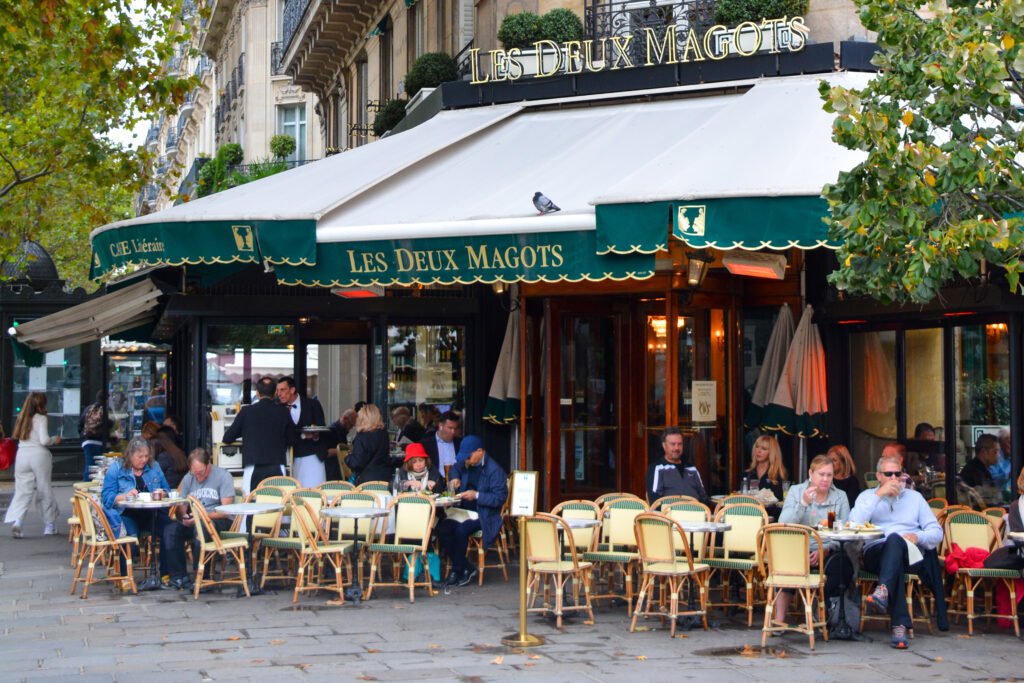 3. Le Procope: Founded in 1686, Le Procope is the oldest café in Paris and has hosted countless famous patrons, including Voltaire, Benjamin Franklin, and Napoleon Bonaparte. Its history-soaked atmosphere and delicious cuisine make it a memorable dining experience.
4. Luxembourg Gardens: Just a short walk from Saint-Germain-des-Prés, the Luxembourg Gardens are a beautiful and peaceful oasis, perfect for strolling, picnicking, or simply relaxing amidst the lush greenery and stunning sculptures.
5. Art Galleries and Antiques: Saint-Germain-des-Prés is known for its abundance of art galleries and antique shops. Wander through the streets and discover a treasure trove of unique pieces, ranging from contemporary art to rare collectibles.
6. The Odeon Theatre: This historic theatre, located in the heart of the district, showcases a diverse range of performances, from classic plays to contemporary productions. Check the schedule to see what's on during your visit.
Shopping and Dining: Saint-Germain-des-Prés is a shopper's paradise, offering a mix of high-end boutiques, quaint bookstores, and stylish concept stores. The district is also home to some of the best patisseries in Paris, such as Pierre Hermé and Ladurée, where you can indulge in mouth-watering pastries and macarons.
For a truly Parisian dining experience, visit one of the many bistros and brasseries that line the streets of Saint-Germain-des-Prés. Enjoy traditional French cuisine in a cozy and authentic setting.
Getting to Saint-Germain-des-Prés
The Saint-Germain-des-Prés area is easily accessible by public transportation. The closest Metro stations are Saint-Germain-des-Prés (Line 4) and Mabillon (Line 10). Alternatively, you can take a leisurely stroll along the Seine River from Notre-Dame or the Louvre to reach the district on foot.
With its rich history, captivating atmosphere, and endless opportunities for exploration, Saint-Germain-des-Prés is a must-visit destination for anyone
Saint-Germain-des-Prés Neighborhood Ratings
| | |
| --- | --- |
| "Must See" | |
| Area Hotel Quality: | |
| Safety | |
| Convenience | |
| Overall Travel Experience and Recommendation | |
("Five Towers" is the highest rating possible)