The Enchanting Place des Vosges in Paris
Located in the heart of the Marais district, the Place des Vosges is an enchanting and historical square in Paris. With its symmetrical architecture, lush gardens, and rich history, this charming spot offers a serene escape from the bustling city. Discover the stories and beauty that make Place des Vosges a must-visit destination for travelers and locals alike.
Place des Vosges in History
The Place des Vosges, originally known as Place Royale, was built in the early 17th century under the orders of King Henri IV. As the first planned square in Paris, it served as a model for future urban developments throughout Europe. In 1800, the square was renamed Place des Vosges to honor the Vosges department, which was the first to pay taxes in support of the Revolutionary government.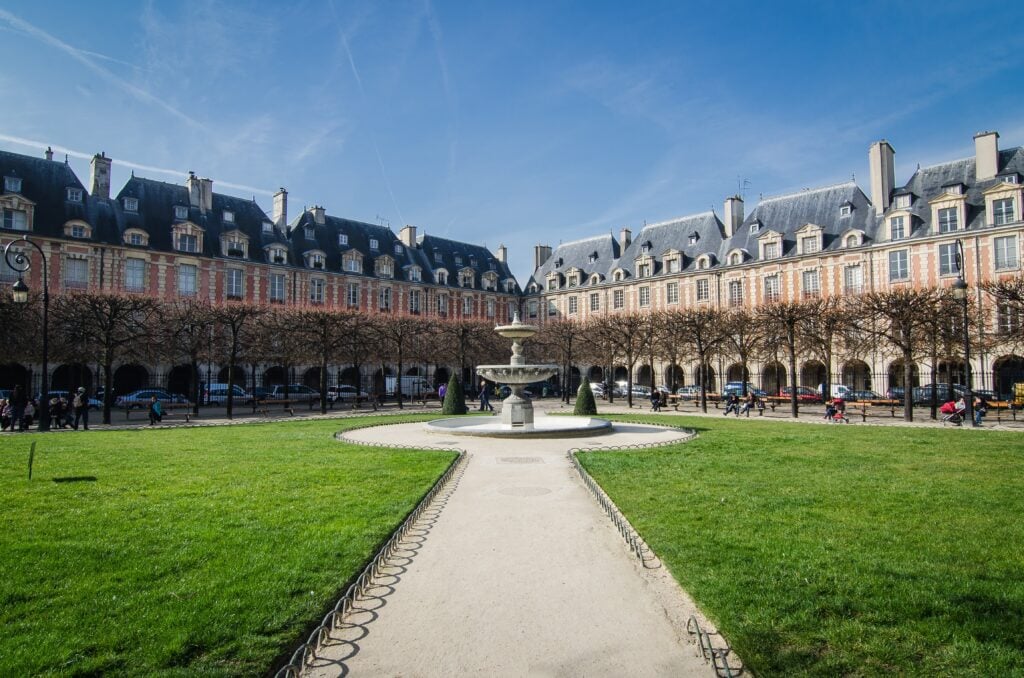 The square, with its distinctive red brick façades and steep slate roofs, is a prime example of the French classical style. The 36 symmetrical houses encircling the square consist of ground-floor arcades, providing visitors with a unique shopping and dining experience. The vaulted arcades also create a sense of uniformity and harmony, with each building being as captivating as the next.
The Place des Vosges is home to the Maison de Victor Hugo, where the renowned French author lived from 1832 to 1848. This charming apartment, now a museum, allows you to step into the world of the literary giant and explore his life and works, including the famous Les Misérables and The Hunchback of Notre-Dame.
Adding to the square's allure is the luxurious Pavillon de la Reine, a 17th-century hotel that has welcomed a myriad of famous guests, from royalty to celebrities. With its ivy-covered façade and secluded garden courtyard, it provides a haven of tranquility for those seeking a respite from the city's hustle and bustle.
At the heart of the Place des Vosges lies a beautifully manicured garden, adorned with vibrant flowers, trimmed lawns, and elegant fountains. Named the Square Louis XIII, the garden features four equestrian statues of the king and offers a delightful setting for a leisurely stroll or a relaxing picnic.
Beyond the borders of the Place des Vosges, the Marais district offers a treasure trove of attractions. The area is rich in history, with narrow streets, charming boutiques, and a diverse range of art galleries and museums, such as the Picasso Museum and the Carnavalet Museum.
The Place des Vosges, with its captivating history, architectural beauty, and picturesque gardens, is a true Parisian gem. Whether you're exploring the apartment of Victor Hugo, indulging in a luxurious stay at the Pavillon de la Reine, or simply enjoying a relaxing afternoon in the gardens, this enchanting square offers an unforgettable experience for visitors and locals alike.