Stroll Through the Tuileries Gardens in Paris
The Tuileries Gardens (Jardin des Tuileries) is a beautiful public park and garden nestled between the Louvre Museum and Place de la Concorde in the heart of Paris. Originally created in the 16th century for Catherine de' Medici, the gardens have since evolved into an iconic Parisian landscape, providing locals and tourists alike with a serene escape from the bustling city.
History of the Tuileries Gardens
The Tuileries Gardens were initially designed by landscape architect André Le Nôtre, the same mastermind behind the gardens of Versailles. As the first French formal garden, the Tuileries have been a center of Parisian life for centuries, serving as a backdrop for royal events, public celebrations, and artistic movements.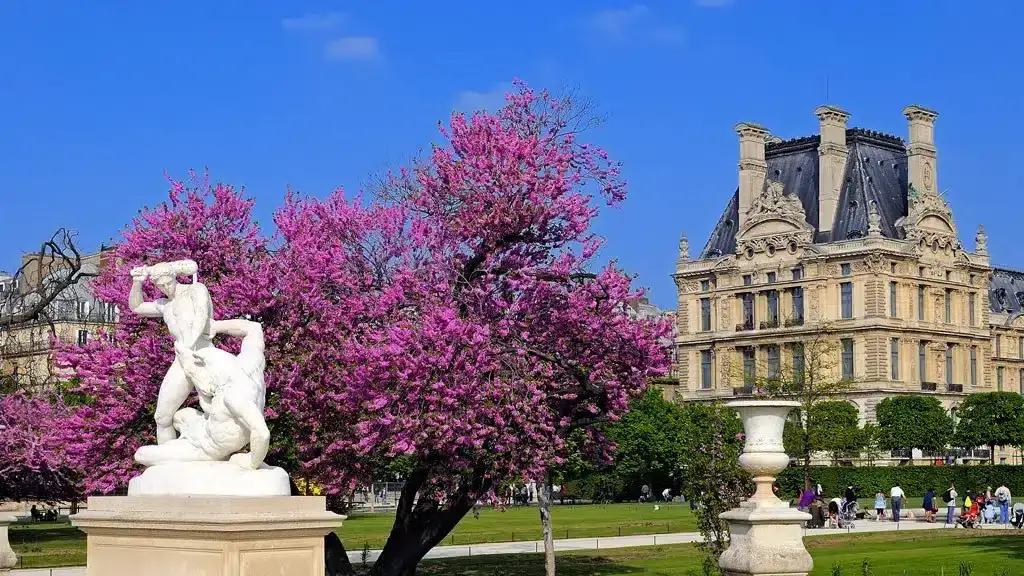 The gardens span over 55 acres and are characterized by their symmetrical design, with meticulously maintained lawns, tree-lined promenades, and ornamental ponds. Visitors can stroll along the wide pathways, discovering hidden alcoves, vibrant flower beds, and a wide range of statues and sculptures, including works by renowned artists such as Auguste Rodin and Henry Moore.
Attractions and Practical Information
The Tuileries Gardens offer a variety of attractions and activities for all ages. Children can enjoy the traditional carousel, playgrounds, and trampolines, while adults can relax in the comfortable green chairs scattered throughout the park. During the warmer months, the gardens are home to temporary exhibitions and cultural events such as open-air concerts and art installations.
The Orangerie Museum, located at the southwest corner of the gardens, houses an impressive collection of impressionist and post-impressionist paintings, including Monet's famous Water Lilies series. Meanwhile, the Jeu de Paume, situated on the opposite side, is a renowned contemporary art gallery.
Cafés and Dining: Several cafés and food stands can be found within the gardens, offering a variety of refreshments and light meals. The most notable is the Café des Marronniers, which serves classic French dishes in a charming setting under the shade of chestnut trees.
The Tuileries Gardens are open daily from 7:30 am to 9 pm (hours may vary depending on the season). The park is easily accessible by Metro, with several nearby stations including Tuileries (Line 1), Concorde (Lines 1, 8, and 12), and Palais Royal-Musée du Louvre (Lines 1 and 7). Admission to the gardens is free, but some attractions and museums may have separate entrance fees.
The Tuileries Gardens provide a picturesque setting for a leisurely walk, a romantic picnic, or a family day out. Whether you're interested in art, history, or simply taking in the beauty of nature, the gardens offer a truly enchanting experience in the City of Lights. Don't miss the opportunity to explore this Parisian gem during your visit to the French capital.