Two Loire Castles plus Wine Cave Tour
Book Now!
---
Visit two historic Loire Valley castles in one day from Paris via high speed rail
Price: $255 per person ($386 with 2nd Class Rail, $461 with 1st Class Rail). Note: Any tour can be made private. Contact us for pricing and details.
See the French castles of Chenonceau and Chambord, coupled with a wine experience at a great Loire wine house.!
Tour is available seven days a week from February through mid December. For off-season requests, which usually can be accommodated, please contact us directly. All admission fees included.
Chambord, Chenonceau and Wine Cave Itinerary
Depart Paris in the morning via high-speed TGV rail. An hour later you'll be in the heart of the Loire Valley. You'll meet our guide at the nearby Tours tourist office and begin an exciting day discovering France's historic château country. You'll visit two of the most popular castles (Chenonceau and Chambord) and visit a small wine cellar.
Dating from the 1100's, Chenonceau has the most Gothic feel of all the Loire castles. An architectural refresh in 1513 gave it a new look; the castle's age is dated from then, making it more than 500 years old. There is a much-photographed arched bridge at its base that joins the château to the river Cher's opposite bank.
Besides the Royal Palace of Versailles, it is the most-visited château in France. Chenonceau played a key role in both World Wars, serving as a hospital in World War I and a means of escaping Nazis in World War II. Anyone on the run could escape from Nazi territory to free France on the other side of the river, using the castle's bridge and secret passageways.
You will then enjoy a late morning tour of the underground limestone rock cellars of Caves Duhard. Starting as barrel makers, the Duhard family began wine-making in 1874, based in old cave dwellings along the Loire river. From such dedicated and humble beginnings comes excellent wine. You'll taste Vouvray, Sancerre and more, tasting light reds and whites, plus dine on a cold lunch of salads, cheeses, bread and local rillette that will make you forget what they serve in Paris.
After lunch you'll go to Chambord.
Chambord may or may not have been partially designed by Leonardo da Vinci. This is the grandest of castles, dating to King Francois I. The castle's double spiral staircases were considered an architectural wonder in their time.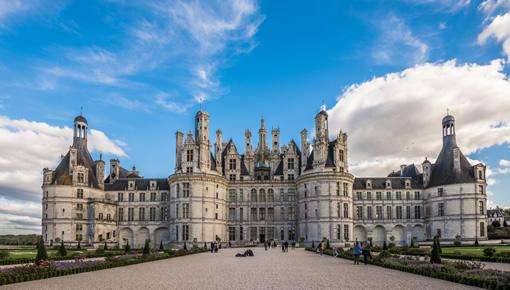 Meant as a royal hunting lodge and idyllic escape from the pressures of Paris, there are stables that can house 1200 horses, and a 13,000 acre game preserve where the distinctive red deer of France still roam. An on-site tour of about 90 minutes is part of your day, then you end up in the beautiful town of Amboise.
Two Loire Castles plus Wine Cave Tour – What's Included?
Tour Price Includes:
Transport in a modern air-conditioned minibus
Entrance fees and guiding at each castle
Caves Duhard tour, tasting, and lunch.
note that lunch may be in a nearby restaurant in off season.
Tour Price Does Not Includes
Round trip transfers from your hotel or apartment in Paris to the Montparnasse train station
Rail
More Information
Occasionally, last minute or high season rail prices will be higher than the prices listed above. We will always contact you before booking if this is the case. If you are not booking your rail through Link Paris, please do not book your train tickets until the correct rail times are confirmed by us. Rail tickets are emailed as a .pdf document for home printing or a download on your phone.
Read our customer reviews.