Alsace Three Day Biking Trip
Embark on a 3 day/2 night cycling trip in charming Alsace
---
Book Now!
Click on the shopping cart symbol to the right after hitting "BOOK NOW" to checkout securely.
---
Alsace Cycling Tour from Paris
Price: $925 per person (rail not included)
Departure Time: Before 8:00 a.m.
Duration: 3 days
Meeting Point: The Colmar rail station
Group Size: 8 person maximum
Availability: Tour is available seven days a week from March through mid December.
For off-season requests, which usually can be accommodated, please contact us directly.
About This Tour
Our Alsace three day biking trip adventure starts on the edge of an Alsatian vineyard and continues through beautiful valleys, overlooked by magnificent castles perched high in the mountains. You will visit the villages of Riquewhir, Turckheim, and Eguisheim, and the village of Voegtlinshoffen, which some think produces the best white wines in all of France!
Read our customer reviews.
Alsace Three Day Biking Trip Itinerary
Day 1: Transfer from the Colmar train station to the charming village of Gueberschwihr, with half-timbered houses, cobbled streets and a beautiful Romanesque church.
There will be a tour introduction before you are fitted with bikes and safety equipment.
After a warm-up ride on small vineyard roads, which will include some of the Tour de France routes, you will enjoy a crèmant (champagne) and wine tasting.
Overnight and dinner in Gueberschwihr.
Biking Distance: Up to 30 km (18-19 miles)
Alsace Three Day Biking Trip – Day 2: You'll cycle to Riquewihr, one of the most beautiful villages in France. En route you'll enjoy a wine tasting in the village of Voegtlinshoffen. Then cruise downhill to Eguisheim, where it's a must to stop and explore. Eguisheim, interestingly, was home to Pope Leon IX in the 11th century. Yes, the Pope did once live in Alsace! In quaint Turckheim. A night watchman still patrols the ramparts. You'll stroll through the cobbled streets of Riquewhir to dine at a prestigious 1* Michelin-rated restaurant.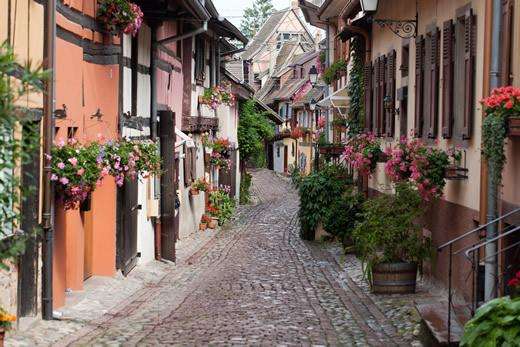 Certainly not required, but there is an option to ride the "Cinq Châteaux" Challenge through the Vosges Mountains on a winding forest road, passing five castles. This route has been included in the Tour de France and is good fun for confident cyclists.
Overnight and gastronomic dinner in Riquewihr. Dinner in Riquewhir at a top gastronomic restaurant.
Biking Distance: 35 km or 40 km (24-25 miles). Longer ride is possible based on interest and fitness.
Day 3: Time permitting before your outbound train, there is an option for a relaxing cycling ride to Colmar, a small city that is full of beauty, culture and history. The maze of cobbled streets is a walk through a bygone age. Perfect picture postcard spots such as "Petite Venise" (Little Venice) and Grunwald's 15th century masterpiece at the Unterlinden Museum are among the highlights. On the way, you'll visit the medieval town of Kaysersberg, early home of Albert Schweitzer. Stroll up the 113 steps to the top of the town for great views.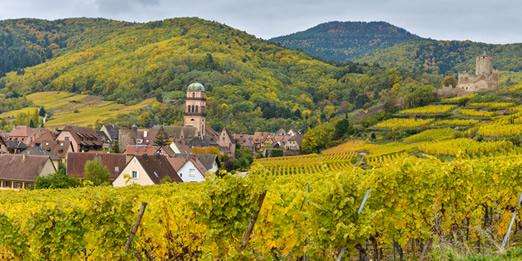 Top cyclists may also want to sample the "Welsh Country" Challenge, up into the mountains through the stunning countryside, returning through the wine town of Ribeauvillé. This quiet ride is for people who want a bit of solitude with their challenge. Spectacular scenery.
Biking Distance: 30 km or 50 km
Alsace Three Day Biking Trip ends. Train to Paris or your next destination.
What's Included on our Alsace Three Day Biking Trip?
Included:
Transportation to and from the Colmar rail station
Two nights hotel in a charming two-star hotel
Breakfast and dinner
Guided cycling services
Bicycles, safety helmets, toe clips, a new water bottle (filled daily with mineral water), and energy snacks
Area maps and regional information
Daily morning briefings given by our guides along with detailed itineraries prepared for your trip
Baggage transfers between each hotel on the tour's circuit
Assistance of a guide and a support vehicle for guided tours
Not included:
Rail to and from Paris
Personal Shopping
Biking gloves
Lunch
Drinks at dinner
Link Paris Reviews – What Others Say About Our Tours
Why we love Alsace – Alsace is one of the most under-appreciated tourist regions in France. The region has changed hands between the French and Germans 5 times since 1872, which means beer as well as wine, local cheese and hearty food. Villages are right out of a Swiss postcard. I loved it. The biking was easy with only a few tough hills along the way. – John