Loire Valley E-Bike Castle Tour
Visit two historic Loire Valley castles plus a local wine cave tour
---
Book Now!
Click on the shopping cart symbol to the right after hitting "BOOK NOW" to checkout securely.
---
Loire Bike Tour from Paris
Join our e-bike tour of famed French castles Chambord and Villesavin via high speed rail from Paris!
Loire Historic Castle Tour
Price: $225 per person ($375 with 2nd Class Rail, $454 with 1st Class Rail).
Departure Time: Before 8:00 a.m. from Paris
Duration: 14 hours (including rail)
Meeting Point: The tourist office in the city of Tours.
Group Size: 8 person maximum
Availability: Tour is Wednesday, Thursday, Saturday and Sunday from April through the end of October.
For off-season requests, which usually can be accommodated, please contact us directly.
Tour Includes
Transport in a modern air-conditioned minibus
Entrance fees and guiding at both Chambord and Villesavin
A snack at Chambord
Electric bike with helmet
Tour Price Does Not Include
Round trip transfers from your hotel or apartment in Paris to the Montparnasse train station
Rail
lunch, time for lunch set aside.
Any tour can be made private. Contact us for pricing and details.
Biking in the Loire Valley Tour
Depart Paris in the morning via high-speed TGV rail. An hour later you'll be in the heart of the Loire Valley. You'll meet our guide at the nearby Tours tourist office and begin an exciting day biking in the Loire Valley. You'll visit two glorious castles: the monumental Chateau de Chambord and the family-owned Chateau de Villesavin.
Upon arrival in Tours, you will be transferred to Chateau de Villesavin. There you'll be equipped with a comfortable e-bike for the leisurely ride to Chambord.
At Chambord, you'll have a snack at the Biscuiterie de Chambord (included) before touring Chambord. After the tour you'll have time for lunch (not included) before cycling back to Chateau de Villesavin for a tour.
After a pleasant afternoon, you'll be transferred back to Tours for your return trip to Paris.
About the Castles
Chambord may or may not have been partially designed by Leonardo da Vinci.  This is the grandest of castles, dating to King Francois I.  The castle's double spiral staircases were considered an architectural wonder in their time, and still stun visitors today.
Meant as a royal hunting lodge and idyllic escape from the pressures of Paris, the castle grounds feature stables that can house 1200 horses, and a 13,000 acre game preserve where the distinctive red deer of France still roam.
Tucked in the verdant Loire Valley, Château de Villesavin is a Renaissance marvel, brought to life in the 16th century by Jean Le Breton, King François I's Finance Secretary. More intimate than its regional counterparts, Villesavin was the overseer's lodge during the Château de Chambord's construction, earning its nickname, "the Little Hut of the Building Yards." Its facade, a symphony of Italian Renaissance and classic French design, paints the château as both a historical treasure and a quintessential noble residence.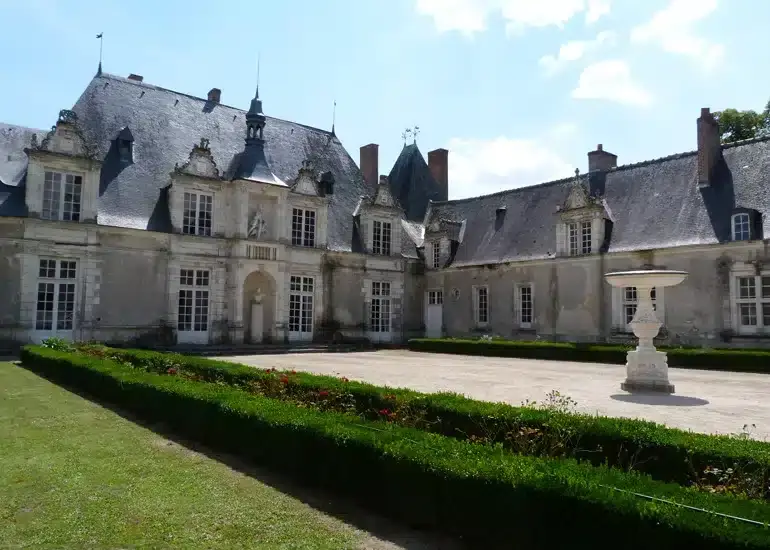 Château de Villesavin now serves as a window into French aristocracy and culture. Its interiors showcase antique furnishings, while the bridal museum offers a rare glimpse into the evolution of wedding customs, complete with vintage attire and lacework. The surrounding gardens provide a tranquil retreat, and the Carriage Museum adds to the estate's charm, displaying vintage horse-drawn carriages that transport visitors to an era of French elegance and countryside romance.
More Information About Our Loire Valley Tours
Occasionally, last minute or high season rail prices will be higher than the prices listed above. We will always contact you before booking if this is the case. If you are not booking your rail through Link Paris, please do not book your train tickets until the correct rail times are confirmed by us. Rail tickets are emailed as a .pdf document for home printing or a download on your phone.
Cancellation and Refund Policies
Due to the small group aspect of all of our tours, our cancellation policy is as follows: more than 7 days before tour date – 100% refundable; from 7 to 3 days before tour date – 50% refundable; less than 3 days – non-refundable. If cancelling please contact us as soon as possible to insure we can credit you properly.
Link Paris Reviews – What Others Say About Our Tours