Notre-Dame de Paris: A Timeless Architectural Marvel
Discover the breathtaking beauty and timeless majesty of Notre-Dame de Paris, an architectural masterpiece and enduring symbol of the city. With over 850 years of history, this iconic Gothic cathedral has captivated the hearts and minds of millions worldwide.
As you step inside, be awestruck by the soaring vaulted ceilings, the intricate stained-glass rose windows, and the detailed stone carvings. Marvel at the harmonious blend of architectural styles, from the Early Gothic choir to the Flamboyant Gothic facade, a testament to the centuries of craftsmanship and devotion that shaped this wonder.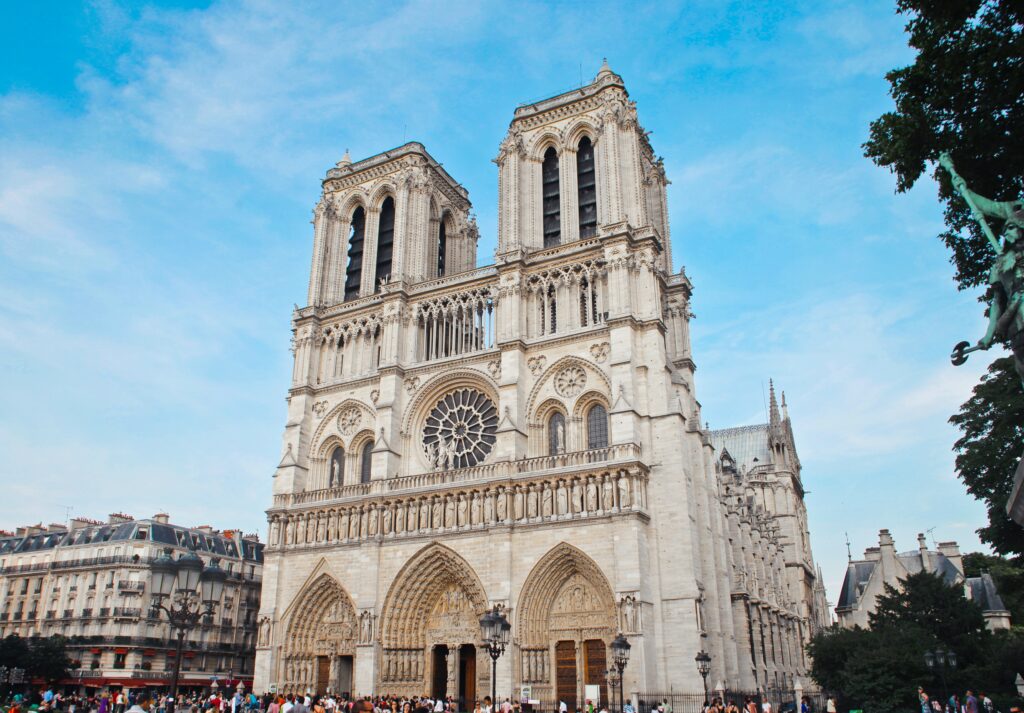 Notre-Dame is more than just an architectural gem; it's a living monument that has borne witness to countless historic moments, from the crowning of Napoleon to the beatification of Joan of Arc. Experience its profound spiritual significance as you admire the relics, artworks, and organ that further enrich its story.
Although the 2019 fire has temporarily closed the cathedral for restoration, you can still appreciate the resilience and enduring beauty of Notre-Dame from its exterior. As it rises once more, like a phoenix from the ashes, Notre-Dame de Paris remains a beacon of hope, faith, and inspiration for generations to come. Embrace the magic of this beloved cathedral and let its enchanting presence forever live in your memories.
Historical Events at Notre-Dame de Paris
Construction of the cathedral takes place between 1163 and 1345 A.D.
1452 – A multi-day stage play called "The True Mystery of the Passion" is performed in the square at the front of Notre Dame. The performance continues non-stop for four straight days.
1558 – Mary Stuart, (Mary Queen of Scots), is crowned Queen of France at the cathedral of Notre Dame.
1793 – During the French revolution, the cathedral becomes known as a "temple of reason" and is spared from destruction.
1795 – The cathedral is sold to a private citizen who intended to destroy the building and use its stone as a quarry. Luckily his plans never come to fruition.
1802 – Napoleon Bonaparte saves the cathedral from demolition.
1804 – Napoleon Bonaparte is crowned Emperor of France in the cathedral.
1940-1944 – Notre Dame square becomes the center of French resistance against the Nazis. Later the cathedral withstands a four day German siege.
2019 – The great Notre-Dame fire destroys much of the cathedral.
Visit the official website of Notre Dame for more information.
Getting to Notre-Dame de Paris
| | |
| --- | --- |
| Address | Place du parvis de Notre Dame , 75004 Paris |
| | Line 1 – Hotel de VilleCite, Line 4 – Cite, Line 7,11, and 14 – Chatalet |
| | Line B – Châtelet-Les Halles, Line C – Saint Michel-Notre Dame |
| | 21, 38, 47, 58, 70, 72, 74, 81, 82 |