3-Night Bordeaux and Cognac Trip
Get to Know the enchanting Cognac and Bordeaux regions
---
Book Now!
Click on the shopping cart symbol to the right after hitting "BOOK NOW" to checkout securely.
---
Tour Both Bordeaux and Cognac
Escape to the south of France on our 3-night Bordeaux and Cognac trip! Savor the rich flavors of world-renowned Bordeaux wines and the finest Cognac spirits, explore stunning chateaus and vineyards, and immerse yourself in the charming culture of this beautiful region. Book now and experience the best of France!
Bordeaux and Cognac Trip from Paris
Price: $1,425 per person. Rail not included. This can be added on after the order, or client books per LinkParis.com instructions.
Departure Time: Before 10:00 a.m.
Duration: 3 days
Meeting Point: Gare St. Jean rail station in Bordeaux
Group Size: 8 person maximum
Availability: Tour is available seven days a week from February through mid December.
For off-season requests, which usually can be accommodated, please contact us directly.
About This Tour
Enjoy an ultimate visit to both the Cognac and Bordeaux regions of France. TGV rail direct from Paris to Bordeaux makes for a quick journey (not included in price).
You'll visit 2 famous Cognac houses*, have a local food tour, visit the famed Cite du Vin wine museum, and enjoy gourmet meals along the way.
*Let us know your Cognac house preference when booking and, based on seasonal availability, we will arrange it.
3-Night Bordeaux and Cognac Trip Itinerary
Day 1 – Bordeaux
Train station pickup at Gare St. Jean in Bordeaux and transfer to your hotel.
Settle in and enjoy a walk or relax at your hotel before heading to your pre-reserved dinner at one of the city's traditional restaurants.
Day 2 – Visit Cognac!
Private tour and tasting at such cellars as Rémy Martin, Camus and Maison Naud. Discover the nuances of the cognac distillation and aging process. Generous cognac tastes included.
Gastronomic lunch in the city of Cognac. Return and free evening to enjoy the lively atmosphere of Bordeaux.
Day 3 – "Gourmand"
Private tour of Bordeaux. The city has the most preserved historical buildings anywhere in France besides Paris and you will soak that in.
With wine-making going back to the 8th century, the city is a natural hub for the wine business. Nothing is made for food more than great wine, so you'll appreciate a food tour focusing on distinct local products. Specialty canelés and macarons are renowned, as are caviar, oysters, cèpe (earthy mushrooms) and beef (a red wine natural).
Offers vary by season.
Day 4 – Cité du Vin
Start the day with a visit of the Cité du Vin, the city's new wine museum. Tastings, food pairings, and the history of wine.
Finish with a walk through the heart of the famous Chartrons district or along the Garonne quays before your transfer to the airport or train station.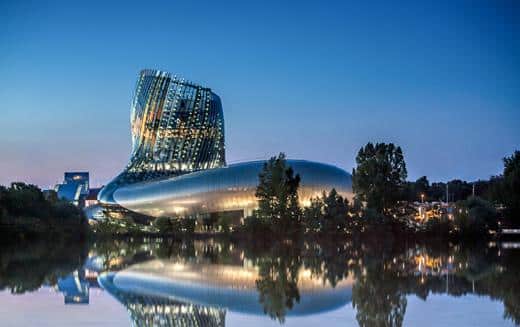 About Your Hotel in Bordeaux
As a thriving wine destination, hotels in the city are a cut above. We work with the wonderful Hôtel de Seze, Le Boutique Hôtel, and the Hôtel de Tourny, among others. All 4-star. 5-star accommodations available upon request.
If traveling during harvest season (September through October) we recommend booking by June or July to assure you get your chosen Cognac visits.
More Information
Link Paris Reviews – What Others Say About Our Tours