Private Half-Day Paris Walking Tour
A Custom Private Paris Walking Tour
---
---
Price: $490 (for 1-2 people, add $45 for each person up to 6. For groups larger than 6 please contact us.
Paris is the ultimate walking city. Whether you want to soak up the atmosphere of Montmartre, do a deep dive into Champs Elysees and Right Bank shopping, explore the Louvre, or get to know the Latin Quarter, a half day walking tour is a natural. Your Paris walking tour might begin with hidden gems around your Paris address. Or maybe your guide will join you for a metro ride to the Eiffel Tower and Arc de Triomphe for local history and photo ops.
The starting and end point of your Paris Walking tour can be customized based on where you are staying in Paris. Option to add Eiffel Tower tickets, based on availability.
Suggested Paris Walking Tour Itineraries
The Marais District
Enjoy a private Paris walking tour of the wonderful Marais neighborhood
The fabled Jewish quarter of Paris (the Marais district) features meandering medieval streets, pop up fashion boutiques, quirky mansions and the Place de Vosges.
Get local tips on restaurants and shopping, while finding secret gardens even many Parisians don't know about. Duration, about 3 hours. Start times flexible between 9 a.m. and 6 p.m.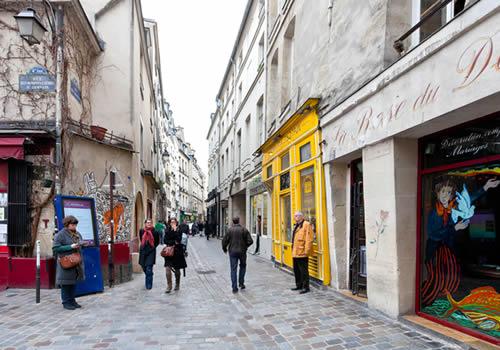 The Right Bank and Montmartre Paris Walking Tour
Visit the Montmartre and Sacre Coeur areas of Paris with a private guide
This hilly part of Paris is truly the birthplace of Impressionism. You'll see so-called "painter's square", food stalls and markets, and currently hip Lepic, Abbesses and Trois Freres streets. View the Moulin Rouge, Paris's secret vineyard ,and of course Sacre Coeur and its incredible view of Paris.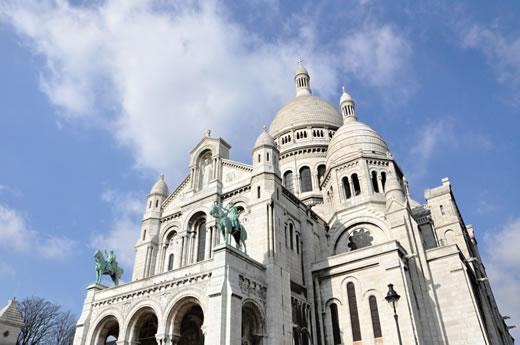 Left Bank Highlights Walk and Tour
Walk the Historic Streets of the Latin Quarter in Paris with a private guide
This popular student area is a mix of ancient streets, modern shopping and night life that captures the flair of Paris's earthier side. Imagine being where the Romans first built the small town of Lutetia. That's the Marais district. You'll experience medieval streets, see where writers such as Hemingway and Sartre worked and lived, and also view the Pantheon. Duration, about 3 hours. Start times flexible between 9 a.m. and 6 p.m
Private Louvre Tour
Visit the grand museum of Paris with a private guide
The Louvre in Paris, the world's largest museum, encompasses 4000 years of human history. Enjoy a private Louvre museum tour with us. Highlights include the Mona Lisa and Venus de Milo and countless other important works. With priority access and a private guide for 2.5 hours, you will enjoy the high points of this incredible collection, and are welcome to stay on as long as you wish after your formal tour is over.
Private Musee D'Orsay Tour
Visit the timeless Musee D'Orsay in Paris with a private guide
The priceless collection of Impressionist and early 20th century art at the Musee D'Orsay is a must-see. Housed in a former train station with an impressive glass ceiling, the museum is a collection of the best of Impressionist and early modern art. Monet, Renoir, Van Gogh and many more.
Tour times available at 9:30, 2:30 and 5:30 every day but Monday. Evening tours available on Thursday.
Once booked, we will contact you to arrange a convenient meeting time for your group and the guide.
Also available: Private Paris tour by car.
Private Paris Walking Tour – What's Included?
Priority entrance tickets to the Louvre museum
A knowledgeable local English speaking guide for 8 hours
Not Included:
Gratuity for your guide. Gratuities in France are appreciated but not mandatory. We recommend €10 euro for a small group and €20 for groups of 4 or more.
Read our customer reviews.