Loire Valley Cycling Tour Highlights
---
The castles you'll visit in the Loire Valley along the way
Click for the full Loire Valley cycling tour description and pricing.
Chateau d'Amboise
The village of Amboise is anchored by the grand Château Amboise, along the river Loire, just 20 minutes from Tours.
In recent times, the château Amboise in the Loire Valley has been partially restored and preserved, but has never quite returned to its 16th century glory, when Leonardo Da Vinci and Italian craftsmen lived on the grounds, building to the specifications of then King Francis I.
Amboise is the only major castle still owned by heirs to the French throne.
Clos Luce
Clos Luce is a stately manor house with the distinction of being Da Vinci's last home. Connected to the château Amboise via an underground tunnel, it's now a museum housing 40 assembled models based on the genius artist/inventor's mechanical plans.
The grounds feature gardens and a priceless collection of Da Vinci's botanical sketches.
Chateau de Chenonceau
Built on the site of an old mill on the River Cher, Chenonceau was disassembled, torched, demolished and rebuilt successively from the 11th century until 1513. It's most known for the arched bridge at its base joining the château to the river's opposite bank.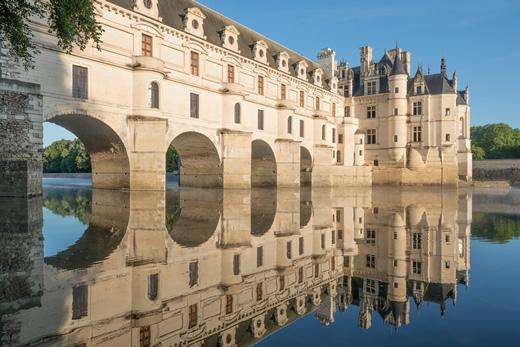 A couple of centuries of crumbling disrepair was finally addressed right after World War II by the current owners (the family Menier, heirs to a chocolate-making fortune). Other than the Royal Palace of Versailles, it is the most visited château in France.
The City of Tours – The Capital of the Loire Valley
Enjoy the city of Tours by foot or bike. Discover the area known as "Old Tours", pedestrian streets and numerous XVth and XVIth century timber-framed houses, the famous place Plumereau, Charlemagne Tower, Saint-Martin collegiate church, and the new Saint-Martin Basilica.
Walk the largest food market in the Loire Valley, an open market on Wednesdays and Saturdays and covered market every day. You will soon see why the region is called "the garden of France" and discover wines, cheeses, our fruits, vegetables, local meat dishes (charcuterie) and fish.
VILLANDRY
Villandry features the finest formal gardens in not just the lush Loire Valley, but in all of Europe. The dilapidated gardens and castle were restored to their 16th century glory in the 1900's, by a wealthy American heiress, Ann Coleman, and her French husband Joachim Carvallo.
It takes 8 gardeners working full time to plant, prune and care for the 60,000 vegetable plants and 45,000 other varietals set out each year.
Visitors will enjoy seeing the man-made lake, plus the specialty sun, herb, water and music gardens, among many others. Much historical research by Carvallo went into restoring the original Renaissance layout of the grounds.