Martell Heritage Cognac Tour
---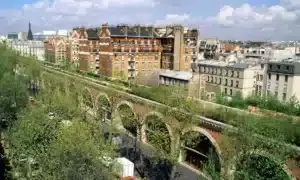 Book Now!
Click on the shopping cart symbol to the right after hitting "BOOK NOW" to checkout securely.
---
The best of Cognac, the Martell Heritage Cognac Tour
Price: $260 per person Tour Duration: 3 hrs.
Enjoy a high speed TGV train ride to the beautiful Cognac region for an incredible tour at Martell. Contact us directly for overnight or custom Martell cognac tours.
Experience the exclusive Martell Heritage Cognac Tour
Martell is the oldest cognac house in France, dating back more than 300 years to 1715. Starting with Joseph Martell, the cellar masters of 9 generations have perfected their particular take on eau de vie (the colorless grape brandy that forms the basis of all cognacs). From VS, to VSOP to Cordon Bleu, you'll learn about the blending and tasting process on the Martell Heritage Tour.
Your tour finishes with the chance to blend your own cognac in the Cellar Master's workshop, all behind the scenes, in an area usually closed to the public. You will leave with a personalized "Montre" of your own blend, but perhaps the most incredible moment in the day is a tasting of L'Or de Jean Martell (average price is ~$3,500) combined with gourmet appetizers.
Frequently Asked Questions About Martell Cognac Tours
Cancellation and Refund Policies
Due to the small group aspect of all of our tours, our cancellation policy is as follows. More than 7 days before tour date – 100% refundable; from 7 to 3 days before tour date – 50% refundable; less than 3 days – non-refundable. If cancelling please contact us as soon as possible to insure we can credit you properly.
How to Get to Martell from from Paris
There are two ways to get to Martell and the town of Cognac from Paris. The most direct route is to take a high speed TGV train from Paris to the city of Angoulême (about 2h 15m) and then transfer to a local train to Cognac (42m).
The other option is to take the high speed train from Paris to Bordeaux (also about 2h 15m) and then take a car service to Cognac.
We will happily arrange your travel to Cognac via either route. We recommend spending the night in either Cognac or Bordeaux to get the most out of your trip. Contact us for details.
Also available: The Ultimate Cognac Tour – Visit Hennessy, Martell, and Remy-Martin in one great day.
Key Cognac Region Facts
Dutch traders are credited with creating brandy as they tried to ship French wine without spoilage. Thus double distillation was born. Only brandy made in the Cognac region can be called such. After the first and second distillation of fermented Ugni Blanc, Folle Blanche and Colombard grapes, true Cognac must be aged in oak deriving only from the Limousin and Tronçais forests in central France. Minimal aging is thirty months, with better and better Cognacs aging for 4 to 6 years. Ultimate Cognacs can age for many more years, concentrating the amber color and spice notes that emanate from decades-old barrels. Distillation can only commence on November 1 and cannot begin after April 1, per strict rules to certify Cognac.
Link Paris Reviews – What Others Say About Our Tours