Discover Nouvelle-Aquitaine
---
A Diverse Region with Rich History and Culture
Welcome to Nouvelle-Aquitaine, a vibrant and diverse region in southwestern France that offers a unique blend of cultural, historical, and natural attractions. From captivating coastlines and lush vineyards to stunning châteaux and bustling cities, the region has something for everyone. Join us as we explore the must-see destinations and experiences of Nouvelle-Aquitaine.
The Nouvelle-Aquitaine region is located in the southwest of France. It is made up of the former regions of Aquitaine, Poitou-Charentes, and Limousin. The capital of Nouvelle-Aquitaine is the city of Bordeaux and is roughly 350 miles from Paris. Bordeaux is easily accessible from Paris in just over two hours via high speed TGV rail.
Nouvelle-Aquitaine is one of France's premier wine growing regions. Varieties grown in the region include Margaux, Medoc, Sauterne, and Saint-Emilion among others. A visit to the region is a delight for the wine enthusiast.
Nouvelle-Aquitaine is also a region of wide open spaces which includes Europe's largest untouched forest. Nouvelle-Aquitaine is also home to some of France's best golf courses and some wonderful beaches at Biarritz.
History buffs and followers of royal intrigue will be taken with Nouvelle-Aquitaine's past. A former duchy ruled by Eleanor of Aquitaine (wife of both Louis VII and Henry II of England). Eleanor bore ten children one of which became known as Richard the Lion-Hearted. She was considered one of Europe's first feminists and was also one of its first romantics.
Visit the website of the Aquitaine tourist office for more information.
Bordeaux: A City of Fine Wines, Elegant Architecture, and History
Bordeaux, the region's largest city, is renowned for its exceptional wines and beautiful architecture. As a UNESCO World Heritage Site, it boasts stunning attractions like the Place de la Bourse and the impressive Grand Théâtre. Don't miss the opportunity to sample some of the world's finest wines in the surrounding vineyards, including the prestigious Saint-Émilion and Médoc appellations.
How pretty is Bordeaux? Well, when Napoleon III commissioned Baron Haussmann to spruce up the squalid streets of Paris, Haussmann looked to the grandly-scaled avenues and elegant buildings of Bordeaux as his inspiration.
Bordeaux is a small city with a worldwide reach, thanks to the wine business it has dominated since at least the 13th century. Vinexpo, the largest wine fair on the planet, is held here each June.
Local wines with international fame include the First Growths of Château Lafite-Rothschild, Château Margaux, Château Latour, Château Haut-Brion, Château Mouton-Rothschild.
Visit Bordeaux with us. Take a Bordeaux Day Trip From Paris.
Though there is no subway, an easy to use tram system winds through the entire city. A picturesque water taxi is also available from 5 a.m. to 1 a.m. daily along the city's Garonne River.
Places to see in Bordeaux
Esplanade des Quinconces, the biggest city-center esplanade in Europe
The Cathedral and the two basilicas, Unesco World Heritage Sites
The squares of old Bordeaux, with their craft shops and cafe terraces
Place de la Bourse (pictured below)
With almost as many museums as Paris, Bordeaux local must-sees include:
Musée des Beaux Arts (Fine arts museum), one of the finest painting galleries in France with paintings by painter such as Tiziano, Veronese, Rubens, Van Dyck, Frans Hals, Claude, Chardin, Delacroix, Renoir, Seurat, Matisse and Picasso
The archeological and history museum (Musée d'Aquitaine)
Musée du Vin et du Négoce (museum of the wine trade)
The museum of decorative arts (Musée des Arts Décoratifs)
Musée d'Histoire Naturelle (natural history museum)
Centre d'arts plastiques contemporains (CAPC) (contemporary art museum)
Musée National des Douanes
Vinorama
The Limousin Region of France
Limousin is a rural region hours south of Paris, east of Bordeaux in Nouvelle-Aquitaine. Major attractions are the huge national forests for camping, biking and hiking. A countryside drive means you'll pass herds of chestnut red cattle and old oak forests. This very special oak is claimed solely by the house of Remy Martin. Aging in Limousin oak casks is what gives the Cognac its complex flavor.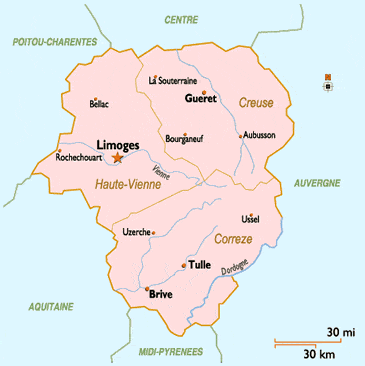 you might find a few oldsters still speaking the local dialect of Occitan, but that's an ever-rarer experience. The region is now part of Nouvelle-Aquitaine and is anchored by the small city of Limoges, known for porcelain-making, thanks to the fine clay of the area.
Limoges
Capital of the Limousin region in portion of Nouvelle-Aquitaine.
This capital of the Limousin region and the third biggest city in Nouvelle-Aquitaine, like many French towns in central France, dates back 2 millennia to the Romans, when it was called Augustorotum, after the Emperor Augustus. The city was among the earliest in France to be evangelized to Christianity, by St. Martial, in the 3rd century. Constant raids by German tribes had the city largely abandoned for centuries, until the Abbey of St. Martial was built, and his remains entombed.
Limoges became a center for music and arts from the 9th to the the 14th centuries, when its fortifications were breached and it was invaded by Edward the Black Prince. Today, Limoges is known worldwide for its porcelain industry. Limoges porcelain is made from kaolin, which is abundant in the area. Les Halles market is packed with a range of food stuffs such as fois gras and noisette (a locally produced hazelnut liqueur). Many visitors to the area arrive via train to Limoges original 1920's era train station.
Perhaps the most unexpected fact about Limoges is its famed basketball team. Limoges was the first French city to deliver a 1st place win for France in the European basketball league, and hosts international basketball expos and tournaments to this day.
Contact us to build a perfect France vacation.
Charming Poitou-Charentes, France
---
Poitou-Charentes the Heart of Cognac country
The Poitou-Charentes region is one of Nouvelle-Aquitaine's best kept secrets: a sunny and serene land of green meadows, sandy beaches, pine forests, marshlands and Romanesque churches overlooking a luminous landscape of cognac vineyards. Poitou-Charentes is a region whose unspoiled treasures and timeless rhythm welcome its visitors with Old World charm.
Places to Visit in Poitou-Charentes
Cognac: The world's best-known brandy comes from the peaceful countryside surrounding the Charente River one hundred miles north of the city of Bordeaux. This slow moving river, which King François I called the loveliest river in his kingdom, passes through a placid landscape of vineyards bathed by a clear and radiant light.
Visit Cognac with our "Ultimate Cognac Tour".
Cognac, the medieval town which bears the name of the region, is a charming town filled with narrow cobbled streets and elegant Renaissance facades. World famous cognac houses such as Camus, Hennessy, Martell, Otard, Prince Hubert de Polignac, Rémy-Martin, Courvoisier, and Renault-Bisquit are located here; each has its own secret and unique process for mixing the various blends of its eaux-de-vie.
Join a guided cognac tour to learn about the double-distilling process that goes on in copper stills before the aging process continues in oak barrels.  Some cognacs age over 100 years. 
Angouleme: Crowning a hill with a superb view of the valley between the Charente and Anguienne rivers, the city is surrounded by medieval ramparts. The Cathedral of St-Pierre is a fine example of Romanesque architecture.
La Rochelle: La Rochelle, a charming coastal city, is steeped in history and maritime tradition. Explore the picturesque Vieux Port, lined with vibrant cafes and restaurants, and admire the iconic towers that have guarded the harbor for centuries. Be sure to visit the Aquarium La Rochelle, one of Europe's largest, for a captivating glimpse into marine life.
Marais Poitevin: Marais Poitevin, also known as "Green Venice," is a picturesque network of man-made canals in Nouvelle-Aquitaine. Dating back to the Middle Ages, these canals were created by monks to drain the Golfe du Poitou. Navigating by car may be challenging due to scarce roads, making boat rentals an ideal way to explore. Coulon, a photogenic town near Niort, serves as the main base for aquatic tours, while other options include cycling or horse-drawn caravans.
Ile de Re: Linked to the mainland by a toll bridge, the island of Ile de Re is surprisingly flat. Whitewashed houses with green shutters, narrow little streets bordered with bright hollyhocks, long fine sandy beaches, colored church spires rising from villages and harbors, salt pans that form as patchwork of watery fields, make the island a paradise for holiday makers and a haven for cyclists.
Poitiers: Set on a majestic hilltop above the river Clain, this is one of France's oldest cities and the 4th largest city in Nouvelle-Aquitaine, filled with history and tales of antiquity; whether it be Joan of Arc, Richard the Lionhearted or Eleanor of Aquitaine. The visitor will discover a trove of Romanesque art and architecture, museums, a 4th century Baptistery (one of the oldest Christian edifices in France as well as the entirely renovated Romanesque church of Notre-Dame-La-Grande.
Futuroscope: Located just 5 miles from Poitiers, this science amusement park is a voyage into a wonderland of new technology devoted to the moving image. With the most advanced film projection techniques, the world's largest screens and a multitude of mind boggling activities to choose from, it is no wonder that Futuroscope draws nearly 3 million visitors annually.
Saintes: Located on the banks of the Charente river, this 2000 year old town in Poitou-Charentes was once the Roman capital of southwestern France. The presence of one of the oldest remaining amphitheaters as well as Roman baths, which may be visited, attests to this. Between visits to the cathedral of St-Pierre and the church of St-Eutrope, be sure to stroll through the wonderful medieval city of narrow streets and markets.
Getting to the Poitou-Charentes Region in Nouvelle-Aquitaine
You can reach Poitou-Charentes by air with regular flights from London to Poitiers and La Rochelle (Ryanair), and connections to major French cities via Clermont-Ferrand. The Atlantic TGV connects Paris Montparnasse station with Poitiers, Angoulême, Niort, and La Rochelle. By car, take the A10 motorway or N10 road from Paris, with a 3-hour drive to Poitiers and 4.5 hours to Angoulême, Cognac, and La Rochelle.
Sports and Leisure in Poitou-Charentes
While Poitou-Charentes as a region would seem to be all about a carefully-made luxury drink made from very particular white grapes (Ugni blanc in case you wondered), it's an outdoor paradise as well. From the Marais Poitevin's flat-bottomed boat tours through the so-called "bayou of France", to canoeing and house-boating on the Charente river, to sailing and wind-surfing along the Atlantic coast, Poitou-Charentes is a water-lovers dream. Inland, the region's lovely rolling hills are made for cycling, and of course, well-laid-out golf courses. Fourteen to be precise.
Spa afficionados swear by the centers at Royan, Châtelaillon, lIe de Re and lIe d'Oléron, especially for thalassotherapy, that very distinct French sea water therapy.
Gastronomy in the Cognac Region
From the simplest to the most refined, restaurants in Poitou-Charentes offer modern gastronomy inherited from regional recipes. World famous eau-de-vie Cognac is made in this region and this palatable brew is present in many recipes.
If you are determined to sample seafood as fresh as can be, Poitou-Charentes in Nouvelle-Aquitaine is the right place to be since its coast overflows with bounty: a great variety of seafood from sea-bass, dover sole, mullet, halibut, frog fish, skate, sea bream, to scallops, clams and of course mussels and oysters (ideally from the Marennes-Oleron beds).
A must try in Poitou-Charentes is the "ceteaux" or wedge sole­. Typically served ­ grilled or pan fried with lemon and butter. The fish is carried by the tide from the open sea round the ile d'Oleron and are only found in the region.
The best butter in France comes from the Poitou-Charentes department in Nouvelle-Aquitaine. For over a hundred years, regional production companies have remained faithful to traditional production techniques that are unparalleled worldwide.
Also famous are the local goat cheeses. A perfect way to end any meal while visiting Poitou-Charentes. The region is also one of the top producers of quality beef, pork, and lamb in France.
Poitou-Charentes lamb and beef are much-prized ingredients, in no small part because of the luxuriant ancient grasses of the region that fatten the free-range animals, raised in the time-honored way. Locals celebrate special occasions with slow-roasted pork, or sometimes baby goat with sorrel and green garlic. Though Cognac is dominant, local lighter red wines are gaining in reputation and complement goat and pork very well.
Cognac is a white wine produced and double distilled into an "eau-de-vie". Some do indeed think of it as the "water of life", which is the English translation. Cognac results from blending and aging different eau-de-vie vintages in Limousin oak barrels. Aging is inimally two years, but could be 100!.. Once transferred out of the oak wood casks into bottles, like whiskey, Cognac stops aging. The designations are precise:
V.S. (Very Special) two and half years old
V.O. (Very Old), V.S.O.P. (Very Superior Old Pale), Réserve must be at least four and half years old
X.O. (eXtra Old), Réserve, Extra, Hors d'Age and Napoleon six and half years or older
One of the most popular things to do in Nouvelle-Aquitaine is to visit the city of Cognac for a tour and tasting. Check out our "Ultimate Cognac Tour" for details.
For additional information, visit the Poitou-Charentes website.