7-Day, 6-Night Paris Vacation Package
Experience the city of light with a 7-day, 6-night trip to Paris
---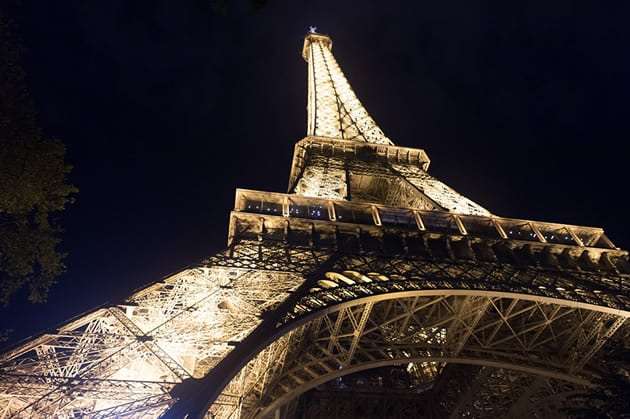 Book Now!
Click on the shopping cart symbol to the right after hitting "BOOK NOW" to checkout securely.
---
The Dream of Paris, in one luxurious week.
From your private driver greeting you at your arrival, to the wonderful oasis of calm at your perfectly appointed hotel, let LinkParis.com's 7-Day Paris Vacation Package take you on an ultimate Paris visit. For first-timers, we'll make sure you enjoy a classic cabaret show, a day tour to Normandy, a Champagne tour, and much more. Coming back for another visit? Our insider guides will show you hidden Paris in private walks, exclusive Paris at a coutourier atelier, and private wine tasting at top Burgundy houses. We'll take care of all the details so you can just enjoy the dream. Book now and get ready to fall in love with Paris for the first time, but not the last.
7-Day Paris Trip
Price: $3,499 for two people. Flights not included.
Departure Time: Various
Duration: 7 days
Meeting Point: Various
Group Size: 8 person maximum
Availability: All year-round depending on hotel availability.
Price listed is for two adults in one room. Supplement applies for solo travelers.
Choose the day you will arrive in Paris when booking.
About This Tour Package
We have partnered with Les Collectionneurs, a premier hotel group in Paris, to offer this exciting 7-day, 6-night Paris Vacation Package.
Upon booking your Paris Vacation Package, we will contact you to go over all of the details of your trip to make sure everything is just right. When booking, please choose the date you will arrive in Paris.
You will choose which days to take the day trips to Normandy and Champagne, but below is our suggested itinerary. Please note that this is our standard itinerary and we will gladly customize any aspect of your trip to Paris.
7- Day Paris Vacation Package Itinerary
Below is our standard itinerary. Reach out to our team to let us plan the perfect custom Paris vacation for you. The sky is the limit. Our 20 years of experience in French travel means an unforgettable holiday can be made just for you.
Day 1 – Arrival in Paris – Yay!
Once you clear customs you'll be met by your driver who will be waiting for you with your name on a sign. You can drive right to your hotel, or add-on a 4-hour Paris tour ($760.00 additional). Check-in to hotel and relax.
Day 2 – Explore Paris
Your first full day in Paris. We'll make sure you have priority entrance tickets at the Louvre, Musee D'Orsay, the Picasso museum or the Eiffel Tower. At night you'll enjoy a trip on Bustronome the gourmet dinner bus.
Day 3 – Normandy D-Day Tour From Paris
Start your day with a train ride from Paris to the city of Bayeux in Normandy. There you'll meet your guide for the day.
You'll visit the artificial harbor in Arromanches, the American Cemetery at Collevile-Sur-Mer and Omaha Beach, the Pointe du Hoc and more. Or maybe door-to-door is more your taste. Our Paris-based Normandy expert will pick you up right at the hotel.
Day 4 – Explore Paris
Ok, day four in Paris. Already! You are almost a pro now. Have you picked a favorite place for morning coffee yet? Well, today is a good day to get that done. A food or shopping tour might be just the thing. Let's fit that in!
Tonight you'll go to either the Paradis Latin or Lido show.
Day 5 – Champagne Day Tour
Start the day with a train ride from Paris to the Champagne region. Depending on availability, you'll spend the day either focused on Epernay or Reims with a visit to either Pommery or Veuve Clicquot. After the grand cellar tour, enjoy a tasting lunch and visit a boutique family cellar for a tour and more champagne tasting. A private driver door to door can be yours for the day instead.
Day 6 – Relax in Paris
This is the last full day of your trip. Time to do some shopping or visit a museum or two you missed.
Day 7 – Heading Home
Sigh. Time to pack. This is where your Paris vacation package ends.
International travelers must be at CDG 3 hours ahead and we will see to it with a private driver or pre-arranged taxi from the hotel, as you wish.
Paris Vacation Package Hotel Choices
Les Collectionneurs is known for their distinctive historic properties in prime Paris neighborhoods. We are proud to have them partner on this Paris Vacation Package.
Based on availability you will be in either the Hotel Napoleon, Hotel Moliere, or the Hotel Chavanel. Please note your hotel choice in the notes section when booking. We will always try and accommodate your first hotel choice.
Hotel Napoléon – Built in the 1920s, the Hotel Napoléon was designed to serve the high society of the Gatsby era. The hotel has modernized, but still retains its wonderful charm. Located near the Arc de Triomphe.
Hotel Moliere – A quiet oasis just steps away from the vibrant Rue de Rivoli and the Louvre museum. Built in 1840, the hotel was once the home of Louis XIV's surgeon. The especially spacious rooms and suites are a rarity in Paris.
Hotel Chavanel – Located near the historic Madeleine church in the heart of Paris, the 27-room Hotel Chavanel has an "easy-chic" feel. A perfect base to explore Paris.
Link Paris Reviews – What Others Say About Our Tours
Why we love Paris – I first went to Paris over 20 years ago. I had a rail pass that covered most of Europe. I was meant to visit at least five countries over three weeks. I stayed in Paris instead. I love the city and hope you will too. We designed this package with the first time traveler in mind, but returning visitors will enjoy it too. Enjoy. – John