Legendary Art and Provence – The Tour
From Van Gogh to Cezanne six-day/five-night trip from Paris to Provence
---
Book Now!
Click on the shopping cart symbol to the right after hitting "BOOK NOW" to checkout securely.
---
Five Days in Provence Tour
This is a six-day itinerary that includes visits to the studios of Cezanne and Van Gogh, a day tour of Martigues, a visit to the Hotel de Caumont and Fondation Vincent van Gogh, and tours of Arles and the Alpilles Region. The trip ends with a private transfer from Aries to Avignon Marseille Airport.
Five Day Provence Tour from Paris
Price: $2,950 per person charming 3-star hotel, $3,150 4-star hotel. Two persons minimum.
Departure Time: Before 10:00 a.m.
Duration: 5 days
Meeting Point: Tour meets at the Avignon TGV station.
Availability: Available for departure any day from Paris. Please enter the date you'd like to arrive in Avignon for day one of the tour.
A supplement of $150 per night applies to single rooms and solo travelers. Minimum of 2 persons per booking.
Rail to/from Paris not included in price.
This Tour Package Includes
A 5-night stay in hotels (3 nights in Aix en Provence & 2 nights in Aries) – breakfasts & city taxes included
Entrances fees as mentioned in the program
English speaking driver/guide
Private transfers on days 1 & 6
The above price does not include:
Personal expenses
Pick up & drop off at Nice Airport= on request
Meals (except breakfasts)
Tips (at your own discretion)
Five Days in Provence Itinerary
Provence has gained worldwide recognition for its luminous light that has enchanted countless artists, who in turn have immortalized its scenic vistas. A visit to Cézanne's studio in Aix-en-Provence evokes the sensation of stepping into one of his iconic paintings. The vibrant colors and unique architecture of Arles and Saint-Rémy de Provence captivated Vincent van Gogh's imagination. A hidden treasure, the artwork of Félix Ziem exhibited in Martigues, has served as inspiration for renowned painters like Renoir and Picabia.
Day 1 – Arrival in Aix-en-Provence from Paris
Private transfer from Marseille Airport to your hotel centrally located in Aix-en-Provence.
Night on your own to explore.
Day 2 – A Day in Martigues
Enjoy a complimentary breakfast at your hotel before embarking on a private full-day tour to Martigues with an English-speaking driver-guide. Martigues, known as "La Venise Provençale," is famous for its charming canals, islands, and bridges. Stroll along the quays, particularly in the "quartier des pecheurs" around Canal Saint-Sébastien, which has inspired painters like Duffy and Ziem.
Visit the Ziem Museum, where many artists, including Renoir, were drawn to "Ziem's Venice" after Felix Ziem moved to Martigues in 1860. Lunch is at your leisure (not included), followed by a one-hour boat trip exploring the town's canals.
Day 3 – Aix en Provence and the Luberon

Start your day with an included breakfast at your hotel, then embark on a guided tour of Aix-en-Provence from 9:00 a.m. to 5:00 p.m. with an English-speaking guide. Stroll along the Cours Mirabeau, lined with 17th and 18th-century mansions and shaded by large plane trees. Explore the old town's shops, architectural and religious sites, lively squares, and fountains. Visit Cézanne's Studio, a memorial site displaying the painter's belongings and artistic preferences, where he created famous works like The Bathers.
Enjoy lunch at your leisure (not included), then visit the Hôtel de Caumont, an 18th-century mansion and art center near Cours Mirabeau. The center showcases two major annual exhibitions dedicated to prominent artists from the past and present.
Day 4 – Welcome to Arles
Begin your day with breakfast at the hotel (included) and check out. At 10:00 am, your English-speaking driver/guide will pick you up and take you to Arles. Check in at your centrally-located hotel (you'll leave your bags with reception).
Embark on a tour of Arles, visiting sites painted by Van Gogh that remain visible today. Enjoy included entrance fees to the Musée Réattu, which houses collections of old paintings, sculptures, photography, and sound art.
Lunch is at your leisure (not included). In the afternoon, visit the Fondation Vincent van Gogh, where you can explore the artist's creative peak during his stay in Arles between 1888 and 1889, as well as his impact on contemporary art.
After lunch, enjoy a private half-day tour of Arles and St. Remy de Provence, following in the footsteps of Van Gogh.
Day 5 – A Day in the Alpilles Region
Enjoy breakfast at your hotel (included) before setting off on a full-day tour of the enchanting Alpilles region with your English-speaking guide. Visit Les Baux de Provence, a village perched 245 meters high, featuring a historic pedestrian center, the Museum of Santons, the 16th-century Hotel des Porcelets, and the Romanesque St. Vincent Church. Conclude your morning with a sound and light show at Carrieres de Lumieres, showcasing the Dutch painters Vermeer and Van Gogh in 2023.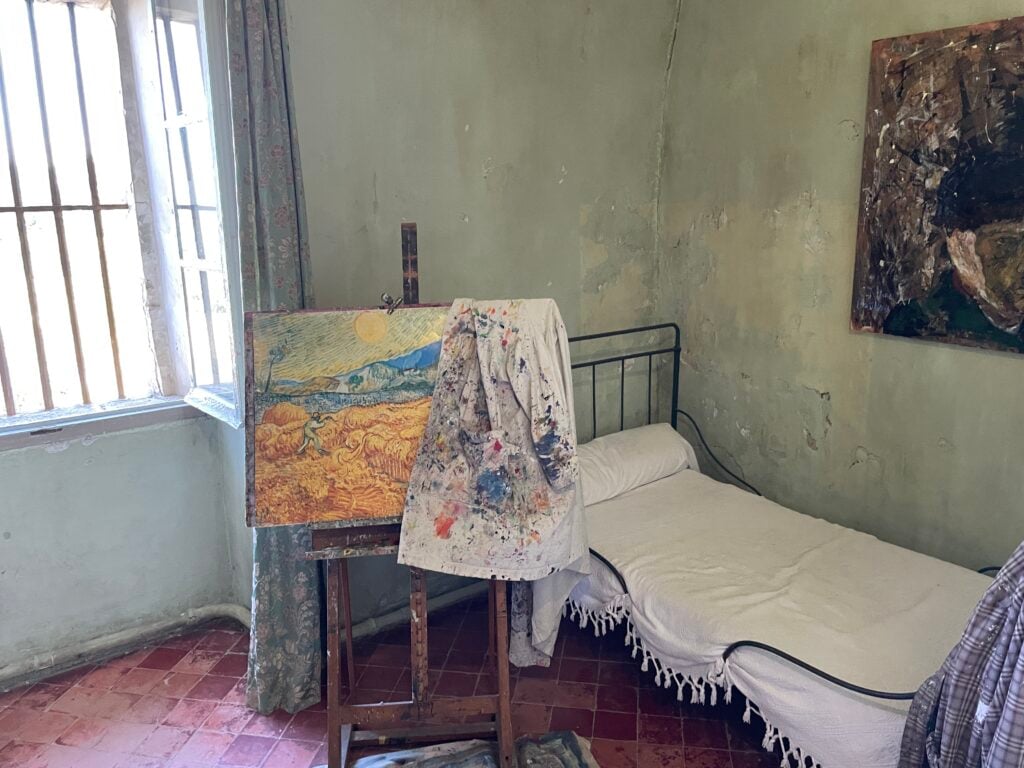 After lunch, head to Saint Paul Cloister in Saint Remy de Provence. Vincent Van Gogh spent a year at the psychiatric hospital, Saint Paul de Mausole, where he created over 150 paintings, including The Starry Night and Almond Blossoms. Tour his reconstructed bedroom and visit the famous wheat field (entrance fees included).
Embark on "the Footsteps of Van Gogh walk," admiring 19 artwork reproductions painted in Saint Remy, and conclude at the Estrine Museum Cloister, a modern and contemporary art museum with a Van Gogh visitor center (entrance fees included).
Day 6 – Departure for Paris
Breakfast at the hotel (included). Check-out.
Private transfer from your hotel in Aries to Marseille Airport or rail station.
End of our services.
Link Paris Reviews – What Others Say About Our Tours
Cancellation Policy for This Tour
CANCELLATION POLICY FOR A STAY
Please find here below our fees in case of cancellation:
• More than 90 days before the arrival : 10% of the total amount of the stay
• from 90 to 45 days before the arrival : 30% of the total amount of the stay
• from 44 to 31 days before the arrival : 50% of the total amount of the stay
• from 30 to 8 days before the arrival : 75% of the total amount of the stay
• less than 8 days before the arrival : 100% of the total amount of the stay