Private Normandy D-Day Tour
Book Now!
---
A private day trip from Paris to Normandy to experience the D-Day landing beaches
Price: Standard pricing for 4 people is $345 a person with 2nd class roundtrip rail from Paris to Bayeux included. Add $44 per person for 1st class rail.
Note: Minimum 4 people per booking. Parties of over 8 people, please call for a quote, as the vehicle will exceed the usual touring limit. For 2 or 3 people, ask for pricing.
Read our reviews on Trip Advisor.
Private Normandy D-Day Tour Itinerary
Experience the incredible story of D Day with a Private Normandy D-Day Tour itinerary from Paris.  below we offer typical highlights, but it is your day. We will customize your private Normandy tour to fit your preferences and budget. You'll start off by arriving in Bayeux in the morning via mainline rail from Paris Gare St. Lazare, the first or second train of the day, your choice.
Our friendly guide will greet you at the rail station with your name on a sign. The day starts as D Day did, with Saint Mare Eglise, site of the famous airborne drops in the pre dawn hours of June 6. Next see Utah and Omaha Beach, the artificial harbor at Arromanches, the German gun battery at Longues-Sur-Mer, the Pointe du Hoc, and of course, the American Military Cemetery at Colleville-Sur-Mer. This incredible day is timed for Taps at the cemetery whenever possible. Wow.
Lunch isn't included in the standard tour, but time is set aside at your discretion for a meal along the coast.
The above Private Normandy D-Day Tour itinerary is our most popular, but we can plan anything you like. Perhaps Band of Brothers is your thing? Then we can add the crash site of the C47 #66, Marmion's farm, Brecourt Manor, Drop Zone D and more. How about a cider tasting? A gourmet lunch? A visit to the Memorial de Caen museum?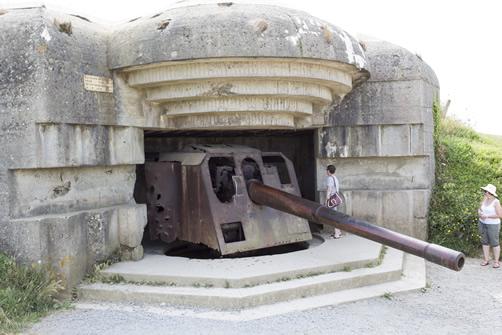 Many clients like to stay overnight in Bayeux or Caen.  If you are one of them, let us know and we'll arrange a charming 3 star or impressive 5 star for you.  Whether driving from Paris in a private van, or being met at the Bayeux train station in Normandy, Link Paris provides custom private Normandy D-Day tour options at a competitive price.
After 18 years of planning custom private Normandy d-day tours, there isn't much we haven't planned, be it for 2 or 50.
Call, email, text, or even What's App us for a quote. We look forward to hearing from you!
Why we love Normandy – What was once a humble region for fishing and apple growing somehow became the staging ground for victory in WWII. I was overwhelmed by being right on the coast where the tide of World War II changed forever. My touring day started with a little hail (in April) and finished with a bright blue sky and wild winds. An amazing day. – Laura