Alsace Wine Tour from Paris
---
A wine tasting tour in the beautiful Alsace region of France
Price: $175 ($300 with 2nd Class Rail, $365 with 1st Class Rail). Tour runs every day of the week. Available from March through November.
Alsace Wine Tour Itinerary
Start your day with a comfortable ride from Paris via high speed rail to Strasbourg. Upon arrival in Strasbourg, it's a short walk to the nearby Tourist Office to meet your guide. Situated along the Rhine river, this is an interesting German-influenced region. Baden, in Germany, is right across the river. The wine- tasting focus is on the Haut Rhin region, along the Vosges mountains. Established over 60 years ago, the Alsace Wine Route features grape varieties such as Riesling, Gewürztraminer and Sylvaner. This is a trip back in time to quaint villages that date back to the Middle Ages.

The first stop on our Alsace wine tour is the Mittelbergheim and Barr regions, home to Zotzenberg, Kastelberg, Wiebelsberg all Grand Crus. Local soils create refreshing low alcohol white wines. With no oaking, wines are fruity with some mineral tones.
Continue on to Dambach la ville wine area. Enjoy a second wine tasting session in a typical caveau, or wine cellar.
After some free time for lunch, move on to the medieval towns of Ribeauvillé and Riquewihr, ground zero for 5 Grand Crus appellations: Geisberg, Kirchberg, Osterberg, Schoenenbourg and Sporen.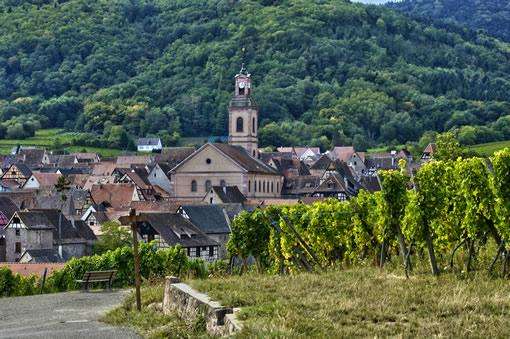 Famous wine growers include the Trimbach family that have been making wine in Alsace since 1626 and the Hugel family, making wine since 1639. You will experience at least one of these appellations in the afternoon.
After the visit, return to Strasbourg in time for the evening train back to Paris. Overnight stay in Strasbourg available. Contact us for details.
The Alsace Wine Tour includes
Transportation in a comfortable air-conditioned minivan for the day.
Wifi access on board.
A registered English speaking driver/guide.
Wine tasting in 3 wineries.
8 passengers maximum per vehicle.
Option for late train to Paris so as to enjoy dinner in charming Strasbourg.
Not included
Lunch
Gratuity for the guide (not mandatory)
Tour meets at the Strasbourg Tourist Office, 17 Place de la Cathedrale, Strasbourg.
Alsace Wine Tour – Rail Information
Occasionally, last minute or high season rail prices will be higher than the prices listed above. We will always contact you before booking if this is the case. If you are not booking your rail through LinkParis.com, please do not book your train tickets until the correct rail times are confirmed by us. Rail tickets are emailed as a .pdf document for home printing.
Why we love Alsace – The historic villages and mountain scenery are really something to experience. Time feels slower – in a good way. Wine tasting completes a really special day. The Alsace region is one of France's true hidden gems. John
You might also like our Alsace day tour which has less of a wine focus, but is just as exciting.