Strasbourg Day Trip from Paris
Book Now!
---
Get to Know Historic Strasbourg
Price: $250 ($375 with 2nd Class Rail, $425 with 1st Class Rail). Note: Any tour can be made private. Contact us for pricing and details.
Strasbourg Day Tour from Paris runs every day of the week. Available February to December. Special agenda during December Christmas Markets. Read our company reviews on Trip Advisor.
Strasbourg Day Trip from Paris Itinerary
Start your day with a comfortable ride from Paris via high speed rail to Strasbourg. After meeting your guide in the Strasbourg station, you will spend the morning in the famed Old Town of Strasbourg.
Dating back 2000 years to a Roman settlement, Strasbourg has been under church rule, German rule, and, ultimately, has been a free French city since after World War 1. Baden in Germany is right across the river. You'll start with a walking tour of Little France, the Cathedral of Notre Dame and a stroll along the canals.
After a lunch break on your own, you will drive the famed Alsace Wine Road to visit the medieval town of Riquewihr. Unchanged since the 1600's, this is straight out of a fairy tale. You'll have a walking tour and a wine tasting, then go on to Cave Boucher Jean Luc for tastes of up-and-coming Alsace wines.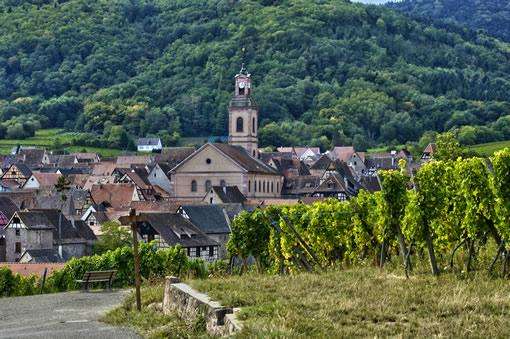 In December, your afternoon will be spent at the famed Christmas markets.
After the visit, return to Strasbourg in time for the evening train back to Paris. Overnight stay in Strasbourg available. Contact us for details.
Strasbourg Day Trip from Paris includes:
Transportation in a comfortable air-conditioned minivan for the day.
Wifi access on board.
A registered English speaking driver/guide.
Wine tasting in 1 winery and 1 tasting room.
8 passengers maximum per vehicle.
Option for late train to Paris so as to enjoy dinner in charming Strasbourg.
Not included:
Lunch
Gratuity for the guide (not mandatory)
Day Trip from Paris to Strasbourg Rail Information
Occasionally, last minute or high season rail prices will be higher than the prices listed above. We will always contact you before booking if this is the case. If you are not booking your Paris to Strasbourg train through LinkParis.com, please do not book your train tickets until the correct rail times are confirmed by us. Rail tickets are emailed as a .pdf document for home printing. 
Wine your thing? Learn about our great Alsace Wine Tour.