Canadian Normandy D-Day Tour
Book Now!
---
A One Day Trip from Paris to follow in the Canadians' footsteps at Normandy
Price: $198 per person ($300 with 2nd Class Rail, $342 with 1st Class Rail).
See the Canadian sector of the Normandy D-Day Landing beaches. Depart Paris in the morning and return via rail the same evening.
Currently the Canadian Normandy D-Day Tour is only available every Tuesday. The Canadian Normandy option can run any day for groups of four or more.
Read our customer reviews. Note: Any tour can be made private. Contact us for pricing and details.
Canadian Normandy D-Day Tour Itinerary
Upon arriving in Bayeux, you'll meet your guide in the rail station. Then it is off to the Canadian sectors of the D-Day landing beaches for a guided tour. Transportation is provided in an air-conditioned vehicle. 8 persons maximum per tour.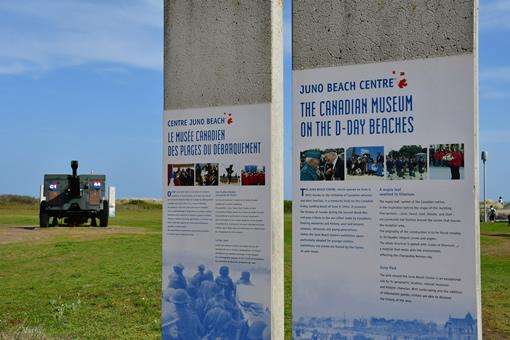 The Canadian Normandy D-Day Tour includes a visit to the following important D-Day sites:
Bernières-sur-Mer – The tiny village of Bernières-sur-Mer was liberated street by street in heavy hand to hand fighting on June 6, 1944 by the Queen's Own Rifles of Canada unit.
Juno Beach Centre in Courseulles-sur-Mer – Dedicated on June 6, 2003, the Juno Beach Centre in Courseulles is the most important stop on our Canadian Normandy d-day Tour. The center reflects the passionate vision of Canadian D-Day veteran Garth Webb. Mr. Webb wanted the sacrifice of Canadians in France to be commemorated and celebrated at the Centre.
Canadian Cemetery in Bény-sur-Mer/Reviers – Canadian soldiers who died on D-day and the ensuing months are buried at the Canadian Cemetery at Bény-sur-Mer. Over 2,000 men lie buried here. The land is a permanent concession from the French government to Canada.
The Canadian Normandy D-Day Tour Includes:
Pick-up at the Bayeux railway station in the morning by a bilingual guide.
Guided tour of the Canadian D-Day landing beaches.
Time for lunch set aside, cost not included.
option to add short Bayeux Tapestry tour/visit.
Drop-off at the Bayeux railway station in the early evening for the return trip to Paris
Canadian Normandy Sightseeing Tours – More Information
If not booking your rail through LinkParis.com, please do not book your train tickets until rail times are confirmed by us. The exact train schedule and pick up time at the Caen rail station will always be confirmed by our reservation department when booking. You will arrive back in Paris around 9:00 pm in low season (October – March) and 10:00 pm in high season (April – September).
Our standard D-Day Tour from Paris focused on the American sector is available every day.
Reviews of Link Paris:

My son and I took [this trip] from Paris to Normandy and it was absolutely outstanding. This is a must do while in Paris.

Bridget. Read all of our company reviews