D-Day and Mont St. Michel Day Tour from Paris
Visit Mont St. Michel, Omaha Beach and the American Cemetery in Normandy
---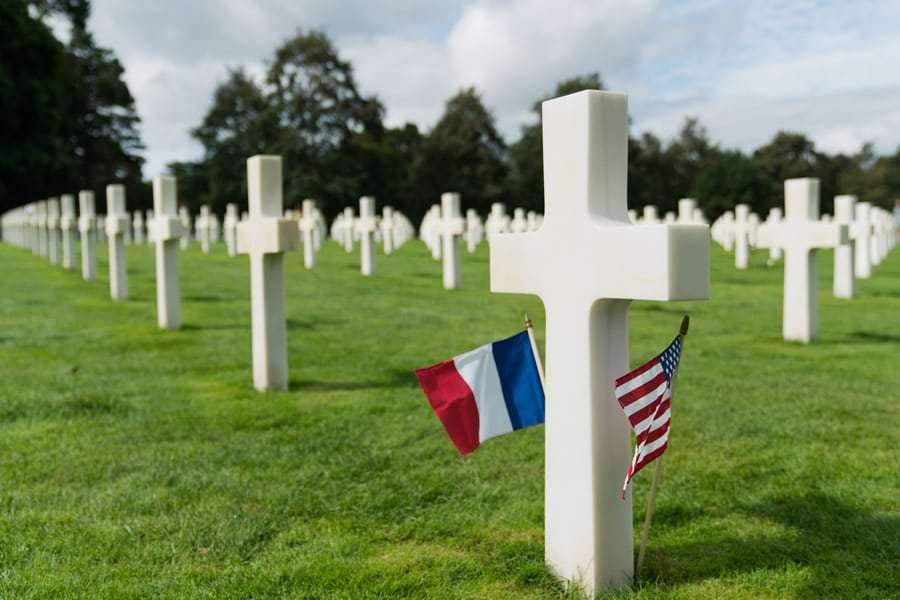 Book Now!
Click on the shopping cart symbol to the right after hitting "BOOK NOW" to checkout securely.
---
Price: $325.00 per person (tour and abbey ticket only), $440.00 with 2nd Class Rail, and $485.00 with 1st Class Rail.
Minimum 4 travelers. Perfect for families and groups traveling together. Inquire for 2 or 3 person price. Discount applies for groups of 6 to 8. Larger groups can be accommodated.
See Normandy and Mont St. Michel in one day.
Read our customer reviews.
Upon arrival in Bayeux via direct train from Paris, you will be met at the station platform by your personal guide for the day.
An hour or so drive brings you to the incredible abbey at Mont St. Michel. This wonder of the world, the second-most-visited site in France besides the Eiffel Tower, dates to the 11th century. A medieval monk was visited by a seemingly impossible vision from the Archangel Michael. The angel instructed him to build a monastery atop a rock formation along the Brittany/Normandy coastline. Many centuries later, Mont Saint Michel, as it now stands, was completed.
The restored wetlands around the Mont (no more parking lots and tacky signs) dramatically evoke the original medieval view of the Mont. You will walk those famous 300 steps with your guide up to the monastery, enjoy the incredible view, soak up the history and then depart for the coastline drive to Omaha Beach.
En route you will choose a lunch spot (cost not included.)
While a D-Day beaches highlight tour can take two days, your afternoon will still connect you with highlights of the incredible story of June 6th, 1944. You will walk on Omaha Beach and learn the exploits of the American invasion force. You'll get a good view of the Pointe du Hoc and hear the story of the famous Ranger climb into German guns. Your final visit will be at the American Cemetery and Visitor Center, timed for Taps whenever possible. You will return to Bayeux in time for the evening train to Paris.
Cancellation and Refund Policies
Due to the small group aspect of all of our tours, our cancellation policy is as follows. More than 7 days before tour date – 100% refundable; from 7 to 3 days before tour date – 50% refundable; less than 3 days – non-refundable. If cancelling please contact us as soon as possible to insure we can credit you properly.
Train from Paris to Mont St. Michel Information
If not booking your rail through LinkParis.com, please do not book your train tickets until rail times are confirmed by us. The exact train schedule and pick up time at the Bayeux rail station will always be confirmed by our reservation department when booking. You will arrive back in Paris around 8:44 p.m. If you prefer a later train, you will arrive at 10:00 p.m. and can eat dinner in Bayeux before returning to Paris.
Note: Lunch cost is not included but time for lunch is set aside. Admissions included. Tips not required but appreciated.
Read a fun and informative article about our Normandy Day Trip.
2-Day Normandy Tours from Paris – Stay Overnight in Bayeux
If one day is not enough, stay overnight with our Normandy D-Day and Mont St. Michel Overnight package. Stay in the historic town of Bayeux.