Day Tour to the Loire Valley from Paris
Visit Chambord, Chenonceau and more via high speed rail from Paris
---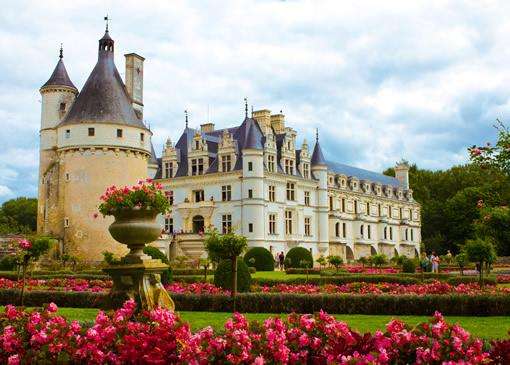 Book Now!
Click on the shopping cart symbol to the right after hitting "BOOK NOW" to checkout securely.
---
Chambord, Chenonceau, and More Loire Valley Tour Itinerary
Visiting the Loire Valley from Paris is easy via high speed TGV rail. See the historic castles of Chenonceau, Amboise, Chambord and Cheverny in one amazing day.
You'll start the day by taking the TGV from Gare Montparnasse in Paris to the city of Tours in the heart of the Loire Valley. Upon arrival you'll meet your guide at the Tours tourist office. The office is just a two minute walk from the train station.
Paris to Loire Valley Day Tours
Price: $220 per person ($375 with 2nd Class Rail, $454 with 1st Class Rail).
Departure Time: Before 8:00 a.m.
Duration: 13 Hours
Meeting Point: Tour meets at the tourist office outside of the rail station in the city of Tours.
Group Size: 8 persons maximum
Availability: This Loire Valley tour is available seven days a week from February through mid-November.
Tour Includes
Transport in a modern air-conditioned minivan
Entrance fees at each castle
Transfer from train station to castles and between castles
Not included:
Lunch – time for lunch set aside
Round trip transfers from your Paris address to the Montparnasse train station
Guided visit in the castles
Read our customer reviews.
Any tour can be made private. Contact us for pricing and details.
Note: Our small group tours to the Loire Valley from Paris often sell out. Please book early to get your preferred tour date. Due to rotating closures in low season, castle agenda may vary in the winter. You will be informed well ahead of time if this is the case.
Famous Loire Castle Stops on this Tour
You'll visit two castles in the morning, have lunch near Chenonceau (not included), and then you'll visit Chambord and Cheverny in the afternoon. High speed rail gets you to and from Tours in an hour. That means after a day of castles you will be in Paris in time for a not-too-late dinner.
You'll visit the following castles during your day trip to the Loire Valley from Paris:
We'll start the day in Amboise. The village of Amboise is anchored by the grand Château Amboise, along the Loire river, just 20 minutes from the city Tours. In recent times, château Amboise has been restored and preserved. However, it has never returned to its 16th century glory, when Leonardo Da Vinci and Italian craftsmen lived on the grounds. When you visit the Loire Valley from Paris you will learn Amboise is the only major castle still owned by heirs to the French throne.
Next up is Chenonceau. Built on the site of an old mill on the River Cher, Chenonceau was disassembled, torched, demolished and rebuilt successively from the 11th to 16th centuries. It's famous for the arched bridge at its base joining the château to the river's opposite bank. Other than the Palace of Versailles, it is the most visited château in France.
After lunch we head to Chambord. Chambord is the biggest castle in the Loire Valley. It was originally built as a hunting lodge for King Francois I. It's been suggested, but not proven, that Leonardo Da Vinci had a hand in the castle's design, but it's officially attributed to legendary architect Phillipe Delorme.
Your final visit of the day before heading back to Paris is to Cheverny. Designed by the same architect who created the castle Blois, Cheverny has stayed in the Count of Cheverny's family almost continually since it was built in the 16th century. An amazing feat if you think about it.
Intact interiors and priceless antiques are a must-see, but the famed hunting dog kennels on the grounds are the biggest draw. The kennels are open for public viewing, right next to the extensive kitchen gardens.
Day Trip to the Loire Valley from Paris – Chambord, Chenonceau and More Map
Loire Valley Tours from Paris FAQ's
Cancellation and Refund Policies
Due to the small group aspect of all of our tours, our cancellation policy is as follows. More than 7 days before tour date – 100% refundable; from 7 to 3 days before tour date – 50% refundable; less than 3 days – non-refundable. If cancelling please contact us as soon as possible to insure we can credit you properly.
More Loire Valley Day Trip from Paris Information
Occasionally, last minute or high season rail prices for our tour to the Loire Valley from Paris will be higher than the prices listed above. We will always contact you before booking if this is the case. If you are not booking your rail through Link Paris, please do not book your train tickets until the correct rail times are confirmed by us. Rail tickets are emailed as a .pdf document for home printing or a download into your phone.
Off-season tour requests can usually be accommodated, please contact us directly for details.
Check out our other Loire Valley tour and trip options.
Why we love the Loire Valley – There are so many castles in the "Valley of the Kings". My favorite is Cheverny. It is among the smallest, but houses a literal battalion of hunting dogs that you can see on property. Chambord's sheer size is also amazing. When I was there, there was a giant Rolling Stones tongue logo carved in the lawn. Very cool – John