Five Great Day Trips From Paris in Winter
Embrace the charm and magic of the season with our selection of day trips from Paris in winter. Venture beyond the bustling city to explore picturesque villages, historic châteaux blanketed in snow, and other captivating destinations. Our carefully curated list ensures a variety of experiences, allowing you to immerse yourself in the enchanting beauty of the French countryside during the colder months, and create memories that will warm your heart.
The Day Trips from Paris in Winter List
1. Lyon Day Trip From Paris – Take a fast train ride to the birthplace of the beloved bouchon. Experience one of Europe's best preserved medieval districts; discovering the secret passageways of the old town (called "traboules") is a tour highlight.
2. Alsace and Strasbourg Day Trips – At the historic border of France and Germany, lies the fairy tale scenery of Alsace, never more beautiful than in winter. A trip to the Christmas markets is a must if traveling to France during the holidays.
3. Private Normandy D-Day Tour – The gripping story of June 6, 1944 is just a train ride away. Experience this dramatic Normandy coastline when the crowds are gone. Low season rates mean a private tour is more affordable. One of our favorite day trips from Paris in winter.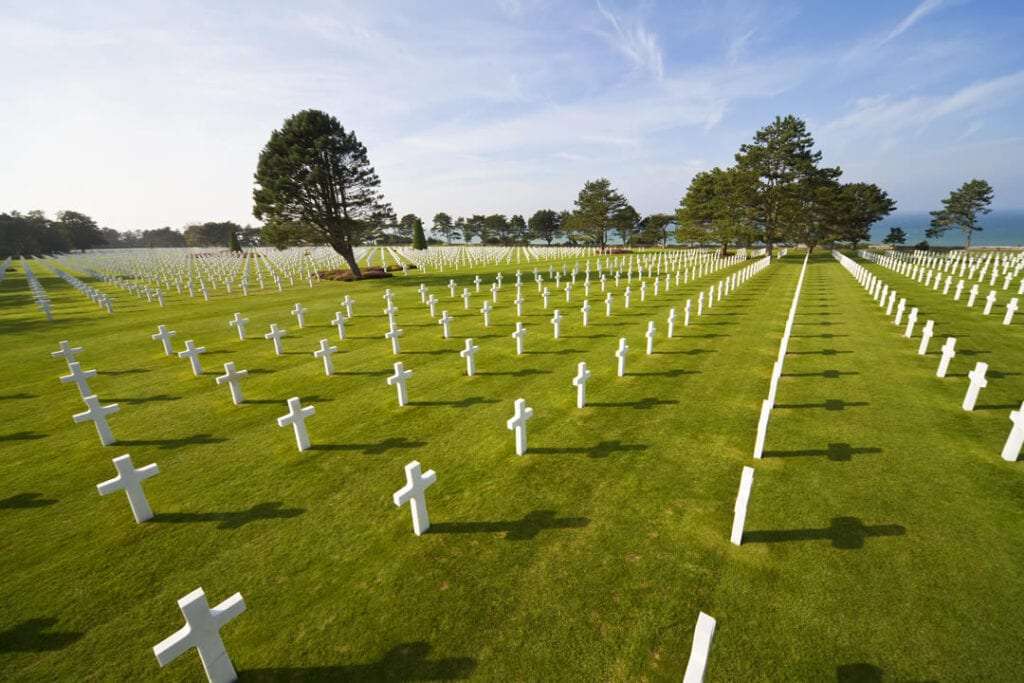 4. Versailles Half-Day Trip – Though the gardens might not be green, their grandeur and sheer scale should not be missed, even if you are peeking out from the warmly heated Hall of Mirrors inside Versailles. Less tourists in the winter means a less rushed visit at this magical castle.
5. Disneyland Paris – Just outside Paris is EuroDisney. The happiest place on earth is also right near Paris and happens to serve great warm croissants to savor between rides.
Visiting Paris in Winter
Northern Europe's winter charm is undeniable, with its thick-walled buildings, chimney-laden roofscapes, and inviting bistros that provide warmth and comfort during chilly strolls. Paris, a city that embodies this enchanting atmosphere, is no exception.
A visit to Paris in winter offers a unique experience, as the bustling crowds of tourists dissipate, allowing you to enjoy the city in a more intimate setting. Hotel room rates are more affordable, the waitstaff at restaurants and cafes are friendlier and more relaxed, and the opportunity to admire masterpieces like the Mona Lisa at the Louvre becomes a truly memorable experience.
During this season, we highly recommend taking advantage of the lower tourist numbers and exploring the surrounding regions with our curated selection of day trips from Paris in winter. These excursions, easily accessible by train, allow you to appreciate the beauty and charm of nearby destinations, each with its own distinct character and allure.
From the snow-capped peaks of the French Alps to the quaint, cobblestone streets of medieval towns, there is no shortage of stunning landscapes and rich history to discover. Immerse yourself in the magic of France's wine regions, with their vineyards blanketed in snow, or marvel at the grandeur of châteaux adorned in their winter splendor.
As you explore these captivating destinations, you'll also have the opportunity to indulge in regional culinary delights, such as hearty stews and casseroles, along with local wines and artisanal treats that are sure to warm your soul.
Whether you're a history buff, a nature enthusiast, or a foodie, our top 5 day trips from Paris in winter cater to a variety of interests, ensuring that you have an unforgettable experience during your wintertime Parisian adventure. So, bundle up, grab a steaming cup of hot chocolate, and embark on a journey that showcases the enchanting beauty of France in winter.
For further information, we suggest reading this article from Travel and Leisure about vacationing in Paris in winter.