Book Now!
---
A one day trip from Paris to the enchanting city of Lyon
Price: $270 per person ($405 with 2nd Class Rail, $470 with 1st Class Rail). Note: Any tour can be made private. Contact us for pricing and details.
Lyon is the premier culinary city of France. Fascinating Roman, medieval and religious history round out your day. Our rule of thumb in European touring is if the Romans built it, you will love it. A Lyon day trip from Paris is a must for foodies.
Our Lyon day trip from Paris is available every day, year round except for national holidays. All admissions included. Limit 8 people per group. Larger groups can be accommodated – contact us for details.
Day Trip from Paris to Lyon Itinerary
Arrive in Lyon via high speed rail from Paris. You'll have to get up early for this one (your train leaves at 7:00 a.m.) but it's worth it.
You will be met at the station and then enjoy a 2 hour pedicab tour of the Old Town and Presqu'ile, the beautiful peninsula between the Rhone and Saone rivers that make up the heart of Lyon. After a genuine bouchon lunch, you'll embark on a 2.5 hour walking tour of the famous traboules (fascinating passages through Old Town Lyon), the Basilica, and the Roman Amphitheater, still in use to this day. A ticket on the funicular to the topmost hills of Lyon is included.
By the way, if you have been to a bistro in Paris and had French onion soup, thank Lyon. The bouchon dining style came to Paris via Lyonnaise workers in the 19th century. The definition of a bouchon is very strict, in fact there are only 24 recognized in the city. Cozy tablecloths, family style dining and exactly 46cl of house wine in a round glass must be included.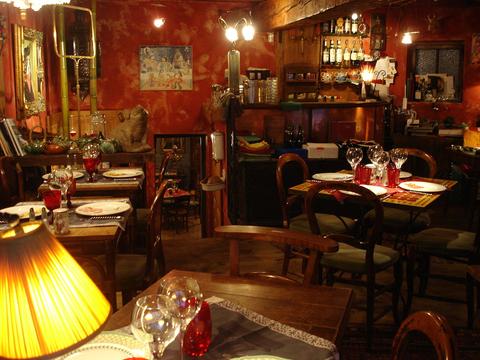 After the walking tour, clients will have free time to visit the Silk Museum, Confluence Museum, Le Petit Musee de Guignol (puppet museum) or just stroll and shop before their 7 p.m. train to Paris. Upon arrival back in Paris, consider a final bite at Le Train Bleue, the famous restaurant inside the station.
Note: Staying over is an option. You can enjoy a late dinner, or save your appetite for the next day and a trip to the countryside for a lunch at Paul Boucose' family home, the restaurant L'Auberge du Pont de Collonges.
Lyon Day Trip from Paris – What's Included?
Tour Price Includes:
Round trip train station transfer in Lyon
2 hour Presqu'ile pedicab ride
2.5 hour Old Town walking tour
Entrance to the funicular
Prix fixe bistro lunch
Includes Basilica visit
Roman Amphitheater visit
Not included:
Round trip transfers from your hotel or apartment in Paris to the Gare de Lyon train station.
Lyon Day Trip from Paris – Rail Information
Occasionally, last minute or high season rail prices will be higher than the prices listed above. We will always contact you before booking if this is the case. If you are not booking your rail through Link Paris, please do not book your train tickets until the correct rail times are confirmed by us. Rail tickets are emailed as a .pdf document for home printing.
Read our customer reviews.