Loire Valley Day Tour – Villandry and More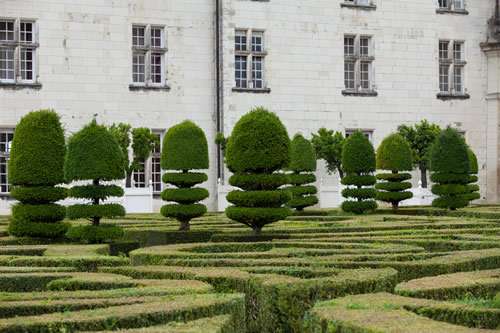 Book Now!
---
A one day trip from Paris to visit four Loire Valley castles
Price: $220 per person ($375 with 2nd Class Rail, $454 with 1st Class Rail). Note: Any tour can be made private. Contact us for pricing and details.
Loire Valley day tour: Visit the majestic Loire castles of Azay-Le-Rideau, Villandry, Langeais, and Usse.
You'll visit two castles in the morning, lunch in town near Villandry (not included) and then visit two more castles in the afternoon. Tour is available Monday, Wednesday, and Friday from February through October. All of our tours are small group excursions. 8 people maximum per vehicle.
Read our customer reviews.
Loire Valley Day Tour – Villandry and More Itinerary
You'll depart Paris' Gare Montparnasse in the morning, headed to the city of Tours via high-speed TGV train. In less than an hour you'll be over 145 miles away in the heart of the Loire Valley! Upon arrival you'll proceed to the Tours tourist office (a two minute walk) to meet your guide and begin an enchanting day discovering France's wonderful château country. You'll visit the following castles during the day:
Chateau Azay-le-Rideau is dramatically situated on an island in the Indre river, its architecture appearing to rise right out of the water.
The plush interiors are decorated in the Italian Renaissance style popular when the castle was first built in the 16th century.
Villandry features the finest formal gardens in Europe. The gardens and castle were restored to their 16th century glory in the 1900's by a wealthy American heiress and her husband.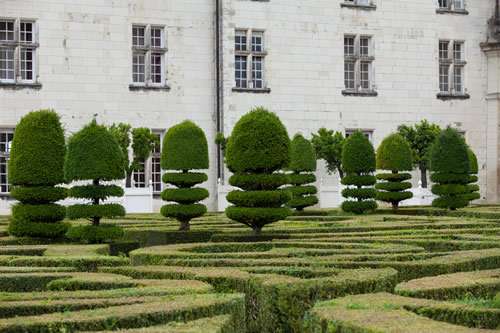 It takes 8 gardeners working full time to plant, prune and care for the 60,000 vegetable plants and 45,000 other varietals set out each year.
Château de Langeais was built in the mid-1400's by Jean Bourré, a minister in the government of Louis XI. Famously, Charles VIII and Anne of Brittany were married here in 1491. The occasion marked the moment that the region of Brittany formally became a part of France.
In the 1880's, a twenty year restoration project began; much of the furniture and art purchased during this time is still on display.
Château d'Usse started as a Norman fortification in the 1100's before being reborn as a picturesque chateau in the 15th century.
Most famously, Château d'Usse is said to have offered the inspiration for Charles Perrault's castle in his beloved tale, "Sleeping Beauty."
What's Included on this Loire Valley Day Tour?
Tour Price Includes:
Transport in a modern air-conditioned minibus
Entrance fees at each castle
Not included:
Lunch
Round trip transfers from your hotel or apartment in Paris to the Montparnasse train station
Guided visit in the castles
Rail
More Loire Valley Day Tour Information
Occasionally, last minute or high season rail prices will be higher than the prices listed above. We will always contact you before booking if this is the case. If you are not booking your rail through Link Paris, please do not book your train tickets until the correct rail times are confirmed by us. Rail tickets are emailed as a .pdf document for home printing. You'll return to Paris via rail and be back in time for a late dinner in the lively Montparnasse area.
Off-season requests, can usually be accommodated, please contact us directly.
Check out the rest of our Loire Valley Day Tours From Paris.
Why we love the Loire Valley – The scale and variety of Loire castles is amazing. I love the gardens at Villandry. You can buy heirloom seeds and cuttings for your home garden there. A little piece of the biggest privately-owned formal gardens in Europe, yay. Some take the bus from Paris, but we recommend Loire Valley tours from Paris by train always. – Laura