Our Awesome Top 10 Paris Tips
---
Ten Paris tips to get your Paris vacation started.
Fodor's recently released their "10 Things You Need to Know Before You Go to Paris" list.
It is a good article. Here is our own top ten Paris tips list.
1. Dining in Paris – Paris Tips Hot Pick: You do not need to tip when dining in a Parisian restaurant. Enjoy the freedom of not tipping! It is wonderful once you get used to it. I've been to Paris over 30 times. It took me at least fifteen trips before I felt fully comfortable not leaving a tip after a meal. There is no reason to wait! When I finally did it, the waiter didn't even bat an eye. He looked at me as if to say, "Oh you are American, but you've been here before, you get it."
It is actually a liberating feeling. Keep in mind that servers in the most touristy areas might try and make you feel guilty over not tipping, but servers at a true French restaurant won't care. Also, remember this phrase "une carafe d'eau, s'il vous plait". Say that and you'll be getting a carafe of water for free instead of an expensive bottle of Perrier. Trust me on this one. Learned it the hard way.
2. Getting along with the French – If you don't speak French at all, download a language app on your phone a few months before your trip. A little French does go a long way in Paris. Think of it from their point of view for a moment. With so many visitors in the city all of the time, the locals sometimes get their backs up thinking that we (tourists) think their home city is an amusement park. It's not and we don't, but with the language gap misunderstandings happen. Filling that gap by learning a few phrases goes a long way. Besides, it is an incredibly beautiful language.
3. Arrondissements are simply the name for the different districts of Paris. The first arrondissement is the area around the Ile de la Cite (where Notre Dome is located) and fills out the city from there in a swirling pattern.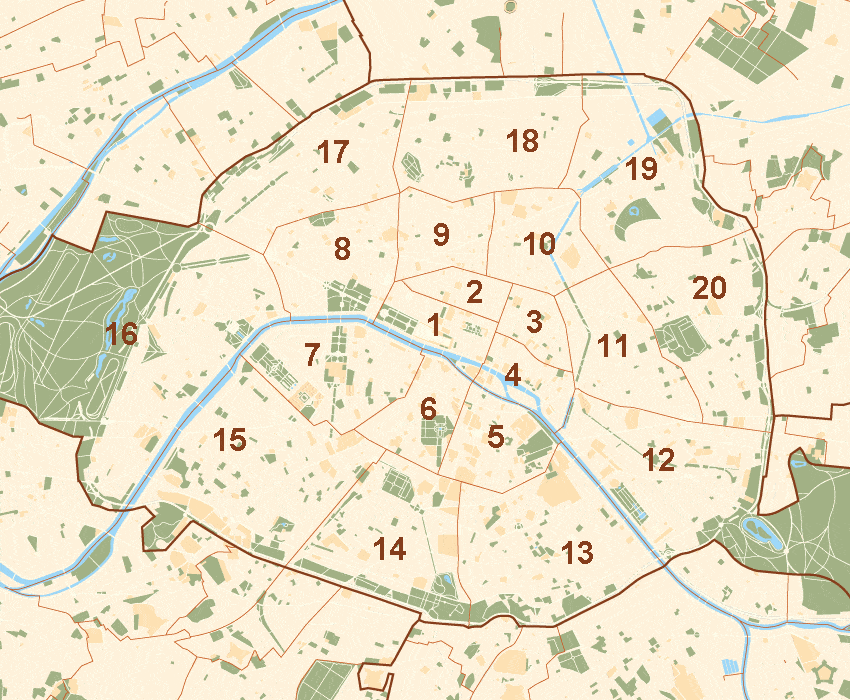 4. Paris does close early – but really only when you compare it to New York. Plenty of options later into the night. Paris night life is wonderful enjoy it!
5. The Metro – is awesome! Use it all the time! Watch for pickpockets though (see Paris tips #9) – just like in any big city.
6. Accept this fact: when you go to Paris the major monuments will have long lines. Make sure to find off the beaten path places and neighborhoods. Just start to walk in any direction from the Eiffel Tower or the Louvre and you'll find something interesting. Also, take a day trip from Paris with us! Visit Normandy, Mont St. Michel, the Loire Valley and much more. Day trips from Paris offer a great perspective on the country. Like America, the rest of the country is a lot different than Chicago, LA, or New York.
7. Dress in Paris – Fodor's says to "Make an effort to dress a little like a Parisian" when visiting Paris. I disagree. Do throw a blazer for men and a dress for woman into your suitcase though. You might need it depending on where you are dining and if you want to take in a cabaret show. Besides that? Be yourself.
8. Paris is a fast city, but we encourage you to slow down when you are there. It is your vacation. Take it all in.
9. Paris tips Safety pick: Paris is generally a safe city, but pickpockets are great at their craft though, so be careful. Also, ignore beggars. Yes, it sucks to see someone in need of food, but an aggressive beggar could be the decoy for someone else who is going to grab your wallet. It happens a lot. If you ignore them they will move on.
One piece of advice. Don't take all of your money or credit cards with you when out and about the city. Take some cash and a credit card. Leave the rest (including your passport) in your hotel safe.
10. Saving money – Take advantage of the local grocery stores all over Paris. There are many in Paris and the food is priced reasonably. Also, some restaurants (especially in hotels) are way overpriced. Not worth it.
You are on vacation, so spend freely, but buying Evian for 1€ at a grocery shop is way better than paying 4€ for a 12 oz. bottle at your hotel.
That concludes our top ten Paris tips. Bonne journee.